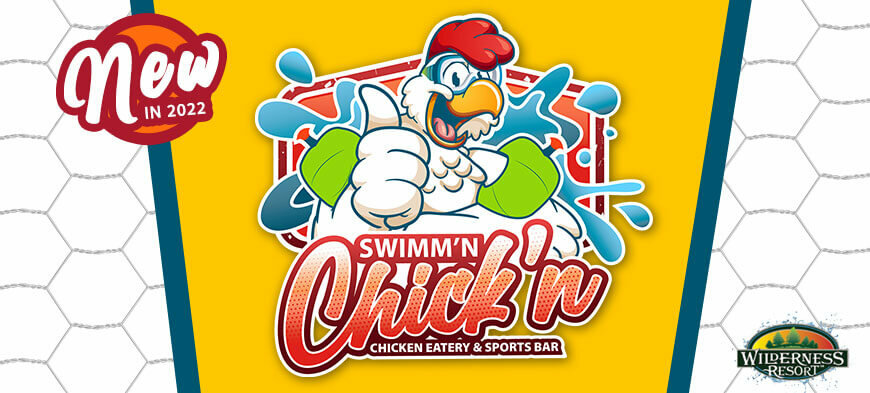 Swimm'n Chick'n Coming Fall 2022
While we are busy renovating our Wild West Waterpark, we've decided that we should give the Thirsty Buffalo a makeover as well.
The Swimm'n Chick'n Chicken Eatery & Sports Bar will open in October and will overlook the Wild West Waterpark. This casual restaurant will feature an optimized menu centered around our star ingredient, a hand-crafted gourmet chicken tender. From salads to sandwiches, tender baskets to wraps, most items on our menu will include this star of the show. The Swimm'n Chick'n will offer a variety of mouth-watering sauces to pair with your chicken choices, as well as all-American favorite sides such as warm biscuits with honey butter; coleslaw; and the soon to be guest favorite, our Rooster Fries: Crispy French fries smothered in white queso topped with our crispy chicken tenders, crumbled bacon and fresh jalapeños.
Other menu items will include: The Thunderbird Sandwich: Extra crispy tenders, red hot dust, pepper jack, triple chili ranch, shredded iceberg, on a brioche bun; a Fried Green Tomato BLT, and Texicali Tacos:  Chopped tenders, Napa slaw mix, shredded cheddar, avocado, triple chili ranch, on flour tortillas.  We also have a great kid's menu featuring a tender basket, Kraft mac and cheese, and a grilled cheese sandwich along with more adult favorites that include a variety of non-chicken sandwiches and salads.
According to Eric, our Food & Beverage Director, "Over the last 2 years, consumers' needs and wants have changed dramatically. They're interacting with restaurants in a different way and have become even more particular about what they eat and how they purchase it. The Swimm'n Chick'n will bring a new experience to our resort. It will deliver premium, high-quality food in a fast-casual setting. This restaurant has also been designed with our sports loving guests in mind. It will feature over a dozen TV's including a TV wall centered around 6 huge 90" TV screens to catch all of your favorite sporting events."
"Plus we spent months perfecting the perfect chicken tender. We found the best all-natural, chicken tenders with no additives. They will be marinated in buttermilk and hand-breaded with our secret blend of seasoning and panko crumbs to maximize flavor and crunch. These hand-crafted tenders have been perfected by our chef and hold a bold flavor that adults will love, while keeping the crisp thin profile that kids require."
Update: Swimm'n Chick'n opened on Friday, October 1, 2022.