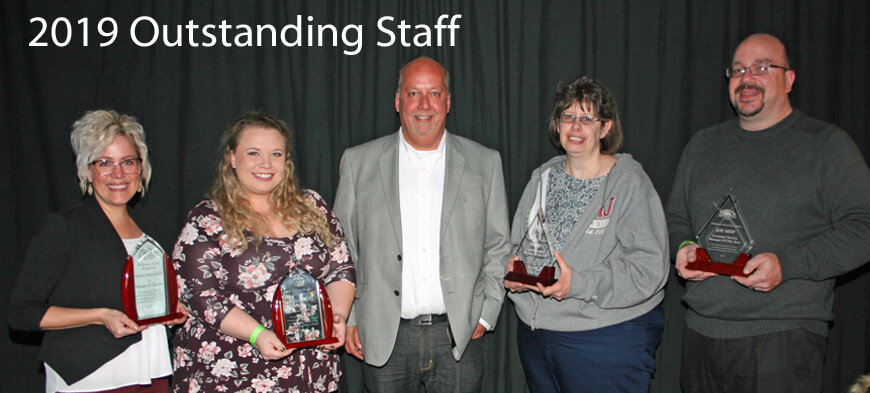 THANKS FOR HELPING US HONOR OUR OUTSTANDING EMPLOYEES!
Photo L-R: Callie, Alex, Jill and Joe
We'd like to thank all of our valuable guests for submitting comment cards to recognize a Wilderness employee or manager for a job well done. We wanted to share with you how these cards really do make a difference! Results are compiled monthly, and together with our directors' input, two employees are honored. Then on a quarterly basis, the resort also honors the two best employees and two best managers at the resort. Finally, once a year we select the "Employee of the Year" and "Manager of the Year" for having the ultimate "can-do-it" attitude and for exceeding guest expectations.
The 2019 "Guide of the Year" was Alex, who works in the cash office at the resort since 2017. According to her supervisors, "Alex was promoted to the Supervisor position in May 2018 and has been a shining star since then. She brings team work, organization, dependability, and a calming influence when the heat is on. We appreciate her so much!"
The resort's 2019 "Manager of the Year" was Callie, who has been working in guest services at the resort since 2014. According to Callie's director, "Since being hired, Callie has taken on any task she has been assigned and gone above and beyond to assist both employees and guests. She has received praise from past guests and developed relationships for the future. Callie continues to motivate Wilderness staff with compassion for her position. She is a valued member of the resort management team, and we appreciate her hard work and dedication."
Each year, we also recognize one outstanding employee and one manager for providing exceptional customer service. Their award is named S.T.A.R.S. (Striving to Achieve Remarkable Service).
The 2019 "S.T.A.R.S. Customer Service Employee of the Year" was Jill.  She has been working in accounting since August 2016 and according to her director, "Jill has been nothing but amazing. She can investigate accounting issues like a true detective, and juggle projects like a circus clown. Plus, she does it all with a smile on her face and manners to boot! We truly appreciate everything she does for us!"
Joe was named the resort's 2019 "S.T.A.R.S. Customer Service Manager of the Year".  Joe joined the housekeeping team in October 2016. According to his director, "Joe has helped to develop and implement many new policies and procedures with his proven track record of professionalism and success as well as his continued display of leadership and commitment. He is an invaluable asset in meeting departmental goals and objectives. We're truly excited to see where he takes the department moving forward."
We'd like to congratulate all of these fantastic employees and also thank each of them for a job well done!