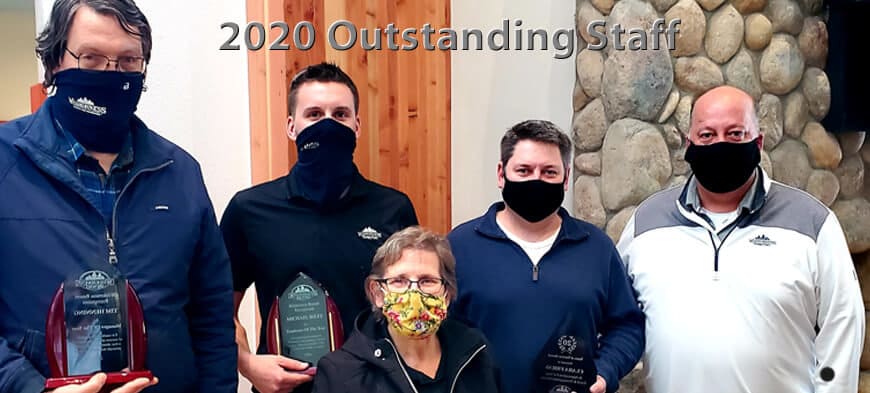 THANKS FOR HELPING US HONOR OUR OUTSTANDING EMPLOYEES!
Photo L-R: Tim, Michael, Ryan, Shirley, Joe
We'd like to thank all of our valuable guests for submitting comment cards to recognize a Wilderness employee or manager for a job well done. We wanted to share with you how these cards really do make a difference! Results are compiled monthly, and together with our directors' input, two employees are honored. Then on a quarterly basis, the resort also honors the two best employees and two best managers at the resort. Finally, once a year we select the "Manager of the Year" and  "Employee of the Year" for having the ultimate "can-do-it" attitude and for exceeding guest expectations.
The 2020 "Manager of the Year" was Tim, who has been a part of the Wilderness Family since February of 2009. As the Resort's Systems Administrator, Tim has demonstrated his extensive knowledge of all things technology including computer operating systems, security and storage solutions. According to Tim's director, "Tim does not hesitate to work long hours to get any project done and assists us all when having technology related issues. Tim's dedication to the Wilderness is truly remarkable!"
The 2020 "Employee of the Year" was Michael, who works in Aquatics and has been with the resort since 2012. According to one of his supervisors, "Michael has strengths that go beyond the norm allowing him to be extremely multi versed in many areas of the Resort making him a natural fit as Aquatics Projects Supervisor. His dedication to both company and guest satisfaction are second to none. He works tirelessly to ensure not only our parks and slides are fun, safe, and clean but has also helped in a magnitude of ways outside the department to do the same for the resort as a whole."
Each year, we also recognize one outstanding employee and one manager for providing exceptional customer service. Their award is named S.T.A.R.S. (Striving to Achieve Remarkable Service).
Shirley was named the resort's "S.T.A.R.S. Customer Service Employee of the Year." She has worked in the arcades at the Resort for 17+ years. According to Shirley's supervisor, "As an Arcade Lead, Shirley is always going above and beyond what is expected of her keeping the arcades clean and organized! Shirley does so much for the Attractions Department and they absolutely adore her!"
The 2020 "S.T.A.R.S. Customer Service Manager of the Year" was Ryan, who has been a vital part of Field's at the Wilderness for the last 19 years. As General Manager, Ryan sets the tone for the "Field's Experience" fostering an atmosphere that engages all of your senses from start to finish. Ryan and his team officially joined the Wilderness family in 2018 and Ryan continues to live and breathe the true meaning of extraordinary customer service!
We'd like to congratulate all of these fantastic employees and also thank each of them for a job well done!