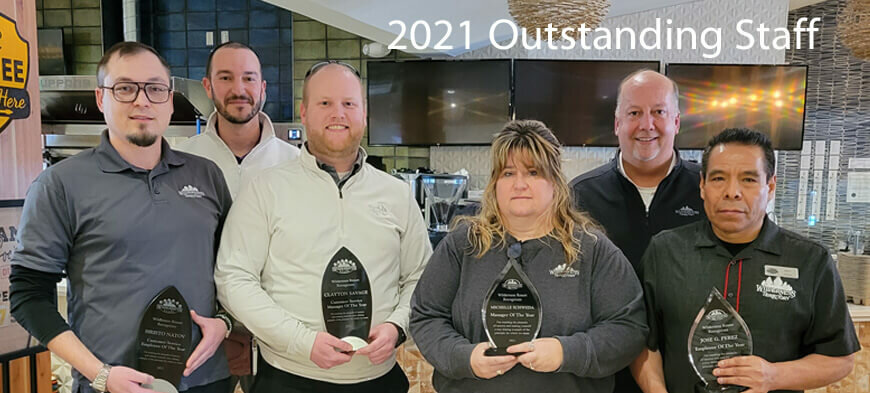 THANKS FOR HELPING US HONOR OUR OUTSTANDING EMPLOYEES!
Photo L-R:  Hristo, our Assistant GM Brandon, Clayton, Michelle, our COO Joe, and Jose.
If you submitted a comment card after your stay in 2021 to recognize a Wilderness employee or manager for a job well done, THANK YOU. Guests' comments are compiled monthly, and together with our directors' input, two outstanding employees are honored. Then, on a quarterly basis, the resort also honors the two best employees and two best managers at the resort. Finally, once a year we select the "Manager of the Year" and "Employee of the Year" for having the ultimate "can-do-it" attitude and for exceeding guest expectations.
The 2021 "Manager of the Year" was Michelle, who has been with the resort since 2007 and works in Glacier Canyon Lodge's Housekeeping Department. According to Michelle's supervisor, "Michelle consistently provides a high level of quality to housekeeping. She works closely with her staff to develop and inspire employees to set and achieve professional goals. Plus, her attention to detail and level of expectations helps raise the bar on quality cleaning.  Michelle is also very knowledgeable in laundry operations and works very closely with other departments to ensure that their expectations are met with linens and deliveries."
The 2021 "Employee of the Year" was Jose, who has been with the resort since 2010 and also works in housekeeping. According to Jose's supervisor, "Jose is so polite to everyone and will go out of his way to help anyone. Jose's prime position is the common areas but he helps out in many other positions (inspector, houseman, housekeeping) when he is needed without any hesitation or questioning why. He is a 100% dedicated employee and is respected by the entire housekeeping team.
Each year, we also recognize one outstanding employee and one manager for providing exceptional customer service. Their award is named S.T.A.R.S. (Striving to Achieve Remarkable Service).
Hristo, who joined the resort in 2019 and works in guest services, was named the resort's "S.T.A.R.S. 2021 Customer Service Employee of the Year." According to his supervisor, "Hristo provides exceptional customer service. He goes above and beyond in his role behind the desk and will assist any guest throughout the resort. No matter where he is while he is working, Hristo is always kind, considerate and consistent with how he treats guests and always makes everyone feel welcome!
The "S.T.A.R.S. 2021 Customer Service Manager of the Year" was Clayton, who has been a Manager on Duty since he began his career with the Wilderness in 2017. Since then, he has grown into a leadership position in Resort Management. According to his supervisor, "Clayton works to ensure our guests are safe and happy during their stay. He does not shy away from an opportunity to learn new things, and is always willing to go above and beyond."
We'd like to congratulate all of these fantastic employees and also thank each of them for a job well done!