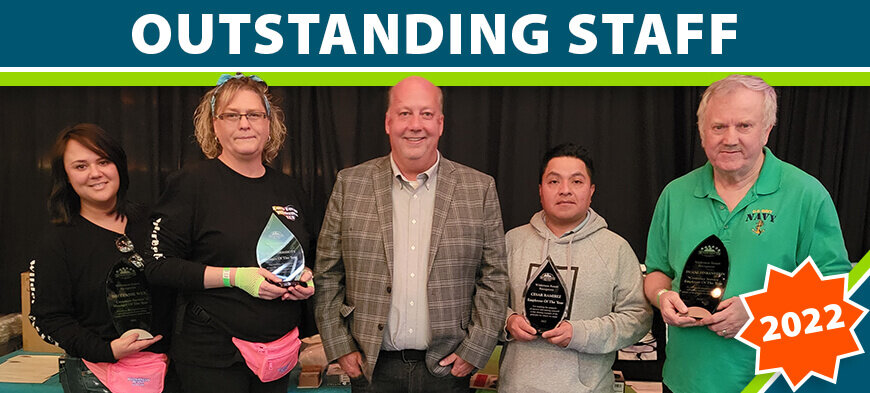 THANKS FOR HELPING US HONOR OUR OUTSTANDING EMPLOYEES!
Photo L-R Brittanie, Lisa, Joe, Cesar and Duane
If you replied to our online survey after your stay in 2022 to recognize a Wilderness employee or manager for a job well done, THANK YOU.
Guests' comments are compiled monthly, and together with our directors' input, two outstanding employees are honored as employees of the month. Then, on a quarterly basis, the resort also honors the two best employees and two best managers at the resort. Finally, once a year we select the "Manager of the Year" and "Employee of the Year" for having the ultimate "can-do" attitude and for exceeding guest expectations.
The 2022 "Manager of the Year" was Lisa, who has been with the resort since 2003 and serves as the resort's Executive Administrative Assistant. According to Lisa's supervisor, "Lisa is the person behind the curtain who keeps all of the owners and executives in line. She is truly a team player who helps any department in need. In the last year, Lisa has been a call center agent, banquet bartender, housekeeping inspector, travel agent and so much more. She is truly the heartbeat of the Wilderness and does so much behind the scenes to keep the team moving. It is a true and literal statement when we all say we would be lost without Lisa."
The 2022 "Employee of the Year" was Cesar, who has been with the resort since 2009 in Grounds Maintenance. According to Cesar's supervisor, "Cesar is polite and positive with his coworkers and guests. No matter if he is mowing, removing snow, cleaning grills, or emptying garbage, Cesar can always be found smiling. If you have had the pleasure of meeting him it is apparent that he loves his job. He is truly dedicated to Wilderness and we are very lucky to have him as part of our family."
Each year, we also recognize one outstanding employee and one manager for providing exceptional customer service. Their award is named S.T.A.R.S. (Striving to Achieve Remarkable Service).
Duane, who joined the resort in 2008 and works in Food and Beverage, was named the resort's "S.T.A.R.S. 2022 Customer Service Employee of the Year." According to his supervisor, "Duane has worked as a server, bartender, cashier, cook and retail associate just to name a few. No matter the task, Duane is up for the challenge. He is always willing to help out in any way he can. Duane frequently goes above and beyond to ensure our guests receive the level of service they have grown to expect from the Wilderness Resort."
The "S.T.A.R.S. 2022 Customer Service Manager of the Year" was Brittanie, who has been with the Wilderness since 2013 and also works in Food and Beverage. According to her supervisor, "Brittanie has built a foundation of excellence in our daily operations that has helped our F&B department soar to new heights. Her attention to detail and ability to optimize our processes have enabled our department to run as efficiently as possible in recent years. She is also the creator of our now WORLD-FAMOUS milkshakes at Molly's Shake Shoppe."
We'd like to congratulate all of these fantastic employees and also thank each of them for a job well done!