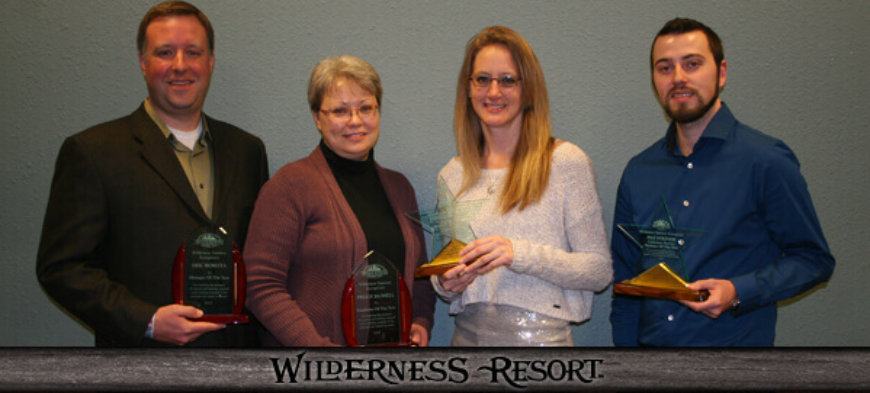 THANKS FOR HELPING US HONOR OUR OUTSTANDING EMPLOYEES!
We want to thank all of you for submitting comment cards to recognize a Wilderness employee or manager for a job well done. These cards really do make a difference! They are compiled monthly, and together with our directors' input, two employees are honored. Then on a quarterly basis, the resort also honors the two best employees and two best managers at the resort. Finally, once a year we selected the "Employee of the Year" and "Manager of the Year" for having the ultimate "can-do-it" attitude and for exceeding guest expectations.
The 2014 "Guide of the Year" was Peggy, who has been with the resort since 2010.  According to her supervisors in the accounting department, "Peggy exemplifies the true nature of a Wilderness team member. Through her dedication, loyalty and commitment she serves as a tremendous asset to her department and the resort."
The resort's 2014 "Manager of the Year" was Eric. He has been with the resort since 2000 and according to his director, "Eric does an outstanding job and has dedicated his career to being the best he can be in helping to grow the food & beverage department from two small outlets to what it is today. Eric manages and oversees four restaurants, ten food & beverage outlets, and four coffee shops and over 100 staff members. He personifies the definition of team player in helping to make the Wilderness Resort the best vacation destination."
Each year, we also recognize one outstanding employee and one manager for providing exceptional customer service. Their award is named S.T.A.R.S. (Striving to Achieve Remarkable Service).
The 2014 "S.T.A.R.S. Customer Service Employee of the Year" was Jamie. She joined the Wilderness guest services team in 2014. According to her supervisors, "Jamie is a shining example of customer service, she always greets guests with a smile and she regularly receives compliments on how she has made our guests' stays more enjoyable. She goes above and beyond to make guests feel right at home, and management has full confidence in her training new staff to do the same."
Pat was named the resort's 2014 "S.T.A.R.S. Customer Service Manager of the Year". He has been with the resort since January 2004, and according to his director, "Over the years, Pat has worked in guest services, housekeeping, resort management and retail. Last fall, he took over as reservations manager. Pat brought his extensive resort knowledge to this department, as well as his unswerving focus on providing great customer service; something he also encourages to our staff. Without a doubt, Pat recognizes customer service as an essential ingredient in the success of the Wilderness, and he can be found reinforcing this principle daily."