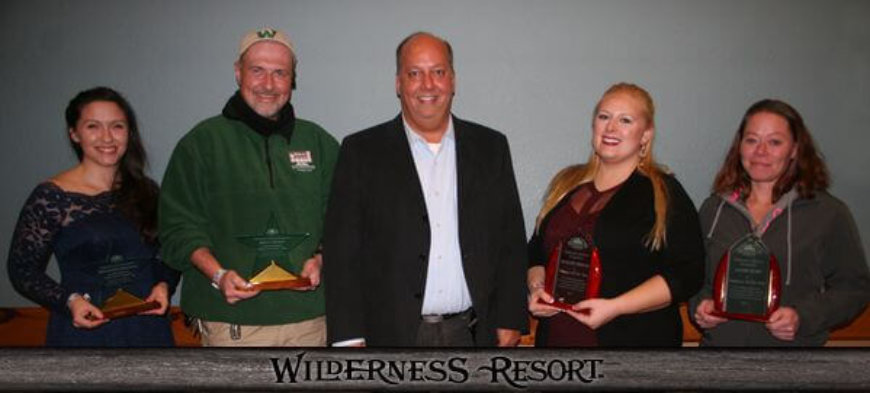 THANKS FOR HELPING US HONOR OUR OUTSTANDING EMPLOYEES!
We'd like to thank all of our valuable guests for submitting comment cards to recognize a Wilderness employee or manager for a job well done. We wanted to share with you how these cards really do make a difference! Results are compiled monthly, and together with our directors' input, two employees are honored. Then on a quarterly basis, the resort also honors the two best employees and two best managers at the resort. Finally, once a year we select the "Employee of the Year" and "Manager of the Year" for having the ultimate "can-do-it" attitude and for exceeding guest expectations.
The 2016 "Guide of the Year" was ­­­Annie, who has been with the resort since 2013. According to her supervisor in the shipping and receiving department, "From starting as a PM shipping and receiving assistant to becoming the shipping and receiving supervisor, Annie has embraced the challenge of defining and growing her role. She has introduced new procedures to increase efficiency and productivity. She also frequently assists other departments to meet staffing needs."
The resort's 2016 "Manager of the Year" was Maggie, who has been with the resort since 2013. According to her director in the human resources department, "Maggie works extremely hard for the Wilderness traveling to other countries to recruit J1 students. She loves the students she works with and is totally willing to help anyone out. We are grateful for her dedication to the Wilderness."
Each year, we also recognize one outstanding employee and one manager for providing exceptional customer service. Their award is named S.T.A.R.S. (Striving to Achieve Remarkable Service).
The 2015 "S.T.A.R.S. Customer Service Employee of the Year" was Brian. He works in the Glacier Canyon Lodge Maintenance Department and according to his supervisor, "Brian has done a great job with sanitation and maintenance. He will also work extra when we are shorthanded. He is always there to help guests and co-workers. He is truly an example of a good worker in our department."
Jennafer was named the resort's 2016 "S.T.A.R.S. Customer Service Manager of the Year". She has been serving as a guest services manager since 2012. According to her director, "Jennafer is highly motivated, professional and polite to every guest she encounters. She truly embraces our proactive customer service approach and sets a great example for our team. She is recognized in comment cards by guests as well as guides, managers and directors."
We'd like to congratulate all of these fantastic employees and also thank each of them for a job well done!