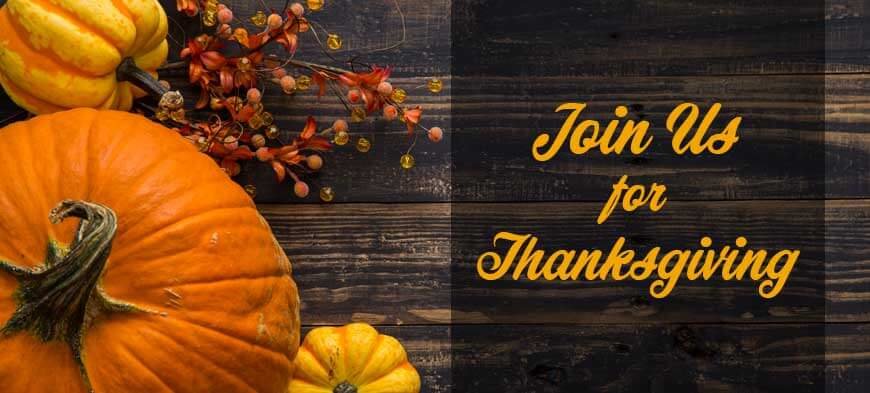 THIS THANKSGIVING RELAX, GATHER AND GIVE THANKS WITH US
Do you love getting together with your family for Thanksgiving…but dread the time and effort it takes to clean your house, grocery shop and cook the largest meal of the year?
Have you ever thought about packing the whole gang up so you can relax, gather and give thanks at the Wilderness? You should!
Our condos, cabins and villas offer the perfect spacious setting for families to gather together and our Thanksgiving Buffet held at our Glacier Canyon Conference Center this year takes the work out of enjoying a delicious meal.
This year's Thanksgiving buffet will feature chef carved roast turkey & prime rib roast, honey orange glazed salmon, mushroom stuffed ravioli with a moscato cream sauce, herb-marinated baked chicken, pork loin rubbed with pumpkin spices with Fuji apple chutney.
There will also be an abundance of delicious sides and a full salad bar, a special kid's corner with their favorite foods, and some decadent sweet temptations, including the traditional old fashioned apple, pumpkin and southern pecan pies, along with other assorted desserts including oatmeal & apple cranberry crisp bars w/ a spiced graham cracker crust, maple soaked lady fingers topped w/ cinnamon cream & assorted cheesecakes.
To see our entire tempting menu simply click here:  Thanksgiving Buffet Line-Up.
The mouth-watering, all-you-can-eat Thanksgiving dinner buffet will be available starting at noon with the last seating at 7 pm. The cost is Adults: $32.99, Kids 4 – 12 Years: $13.99, Kids 3 & Under: FREE. Reservations are strongly recommended and can be made by calling 608.253.9729 ext. 4241.
To make a room reservation, please call 800.867.9453 or book online. Click here to see available rooms and rates.
Happy Thanksgiving from all of us at the Wilderness! We're grateful that you make us your family's vacation destination and are thankful for your business!