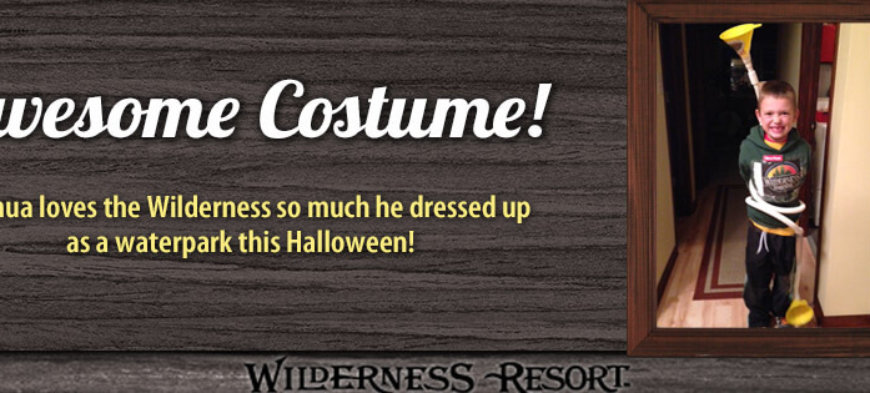 THE BEST HALLOWEEN COSTUME EVER!
We have to give a huge shout-out to Joshua, an amazingly creative six year-old from Greater Milwaukee for having the best Halloween costume ever. He dressed up this year as a Wilderness Waterpark!
According to his mom Angela, Joshua chose this costume because he is a fanatic about the Wilderness.
"Joshua knows all the facts about the Wilderness, plans out our visits, even know which waterpark has pizza and which one opens first," says Angela.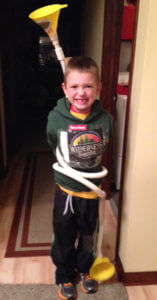 "He is a walking Wilderness waterpark fact sheet. He visits the Wilderness website as much as I will let him, and watches all the Wilderness YouTube videos. He even went as a Wilderness Waterpark Expert on career day at school last year.
"So when Halloween was approaching and we posed the question of 'What are you going to be for Halloween?' to him, we weren't surprised at all with his response 'A Wilderness Waterpark.'"
Joshua's mom says he absolutely LOVES the fastest Wilderness waterslides with the most twists and turns possible. So when it came to making his costume, he came up with the tall, twisty slide idea. Joshua went with his mom to the hardware store to buy the tubing and funnels, and his dad and sister helped attach it to him. As an added touch his mom printed off a wilderness logo and attached it to his green sweatshirt so people would know he wasn't just any "ole waterpark." And when Brandon, our Aquatics Director got wind of Joshua's plans, well let's just say Brandon made sure he had his very own Wilderness name tag to complete the costume.
According to Joshua's mom, the costume was a huge hit with all of Joshua's friends! When we asked his mom if she thinks he'll go as a Wilderness Waterpark again next year she responded, "Absolutely! Only, he will be taller so we'll have to make the waterslide longer!"
Do you have a story about how much your child loves the Wilderness? We'd love to hear it! Please send it to [email protected].