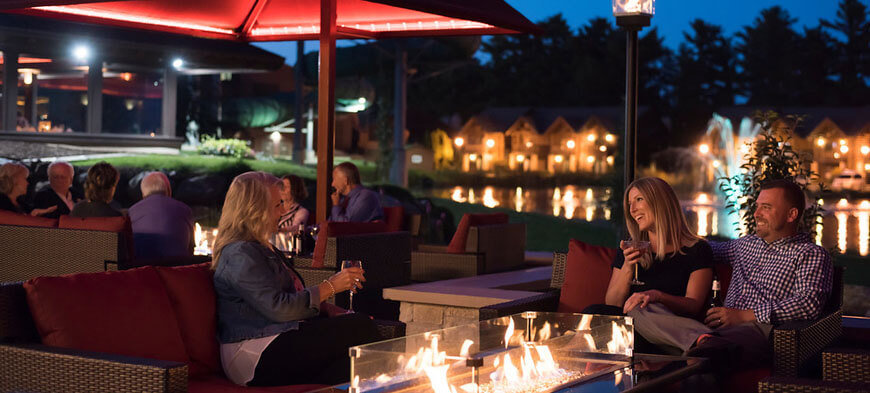 The Patio at Field's at the Wilderness Is Now Open
The Patio at Field's at the Wilderness is now open for business. The new area features comfortable lounge furniture as well as tables and chairs for up to 56 people along with some fire pits, patio umbrella, globe lighting and large tower heaters for when it is cold outside.
The area is open from 4 pm to close daily with last seating for dinner at 9 pm. A happy hour with 25% off drinks and appetizer specials from $4 on up runs daily from 4 to 6 pm.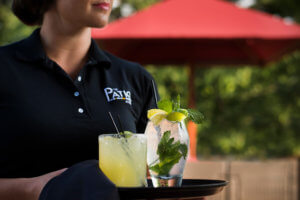 New drinks created for The Patio include: a Cucumber Gin-Let 8 with Gin, Fresh Cucumber and Fresh Lime; a Peach Sangria with Chardonnay, Peach Schnapps, Orange Juice, 7up and Sour; a Pineapple Poplano Margarita with Tequila, Ancho Verde, Pineapple Juice and Fresh Lime; a Smokey Margarita with Tequila, Mezcal, Triple Sec and Fresh Lime; and a Blackberry Sidecar 16 with Hennessey vs Cognac, Blackberry Liquor, Trip Sec and Fresh Lemon.
New appetizers include: Prosciutto Wrapped Asparagus with Fontina Cheese Sauce; Southwest Prawn Cocktail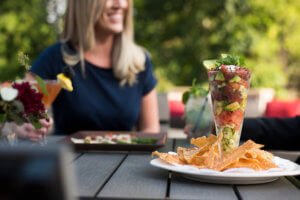 with Tomato, Avocado, Cilantro and Lime; Deep-Fried Deviled Eggs with Bacon, Chive and Sriracha; Tuscan Olive Flatbread with Feta Cheese Spread, Olives, Tomato, Red Bell Pepper and Shaved Parmesan and Ahi Parfait with Cucumber, Tomato, Avocado, Citrus Soy and Wonton Crisp.
Live entertainment is also featured in this area on some nights. The new Patio will be open through fall weather permitting.