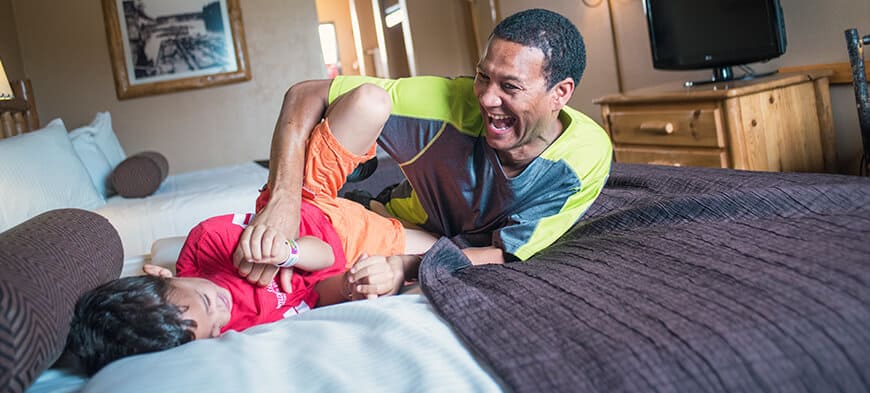 Extended Checkout now available for guests who need just a little bit more time before packing up
Sometimes when traveling, checkout times don't always fit so perfectly. Maybe the sport tournament your child is playing in is running behind or was rescheduled, or perhaps you stayed up too late playing in the arcade and want to sleep in. Heck, we wouldn't blame you if our amazing breakfast buffet at Camp Social just made you feel like you could use a nice nap before hitting the road. Whatever the reason, we get it.  Just a couple more hours in your room is all you need.
Extended Checkout offers up to two additional hours and starts at:
• $50 for Wilderness Hotel and Double Queen units at Glacier Canyon Lodge.
• $75 for any unit with a Kitchen at Glacier Canyon Lodge.
• $75 for Wilderness on the Lake units.
• $100 for Vacation Villas, Frontier Condos, Golf Cabins and Retreats.
Because the demand for this service is already so popular, quantities must be limited each morning to ensure we can still prepare rooms in time for arriving guests.
So how can you take advantage of getting an Extended Checkout added to your stay?
During your visit, or the morning of your departure, just stop by our Guest Service desk or contact us by dialing "0" from your room to inquire on availability.
Don't forget, Extended Checkout or not, your Wilderness wristbands are still good after checkout for waterpark access until close that day – so keep on splashing and creating those memories!
(Note: You will not be able to charge to your room after 11 am of the day you check out.)