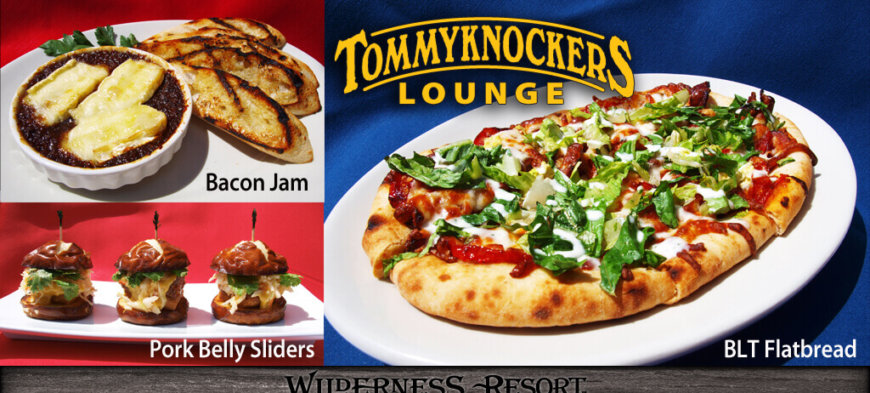 TOMMYKNOCKERS WATERING HOLE EXPANDS DRINK OPTIONS AND ENHANCES MENU
After a fun filled day in the waterpark sometimes you need to slow it down a little and treat yourself. Stopping  by TommyKnockers Watering Hole for a cocktail might be just the retreat from your vacation that you need. It's located off of the New Frontier lobby, and while not everybody in this popular establishment will know your name, its revamped offerings will be sure to please.
For years, our mining themed watering hole has been a great place to enjoy an adult libation (or two!) However, we recently notched it up a little for the discerning palate by adding some noteworthy award-winning wines such as Villa Maria Sauvignon Blanc from Italy, Cambria Katherine's Vineyard Chardonnay from California and La Crema Sonoma Coast Chardonnay, California.
If bourbon is your preference, you'll definitely want to consider trying some of TommyKnockers' new premium additions. They include: Buffalo Trace recognized for its feisty flavor; Blanton's Single Barrel Bourbon which offers a nose of nutmeg and spices; and Baker's Bourbon, named after Baker Beam the grand nephew of the legendary Jim Beam. Consider drinking these smooth bourbons like John Wayne did straight up without ice or a mixer. But please be responsible as you walk back to your guest room.
Following the trend of gastropubs everywhere, TommyKnockers is now offerings some new mouthwatering options made to pair perfectly with the sophisticated cocktails. Ginger Chicken Potstickers, and Truffle Fries are perfect to snack on and the decadent Bourbon Bacon Jam with Brie Cheese is an unexpected combination of flavors you can't miss. Other stand outs are the Steak or Crisp Pork Belly sliders and the delicious BLT or Turkey Flatbreads. For L'il miners, accompanying their parents, there are such popular menu items as Chicken Tenders, Hamburgers, Hot Dogs and Mac & Cheese.
So next time you're at the Wilderness, consider wetting your whistle and satisfying your appetite at TommyKnockers Watering Hole. Hope to see you soon!