 TOP 5 FOOD ITEMS YOU NEED TRY ON YOUR WILDERNESS VACATION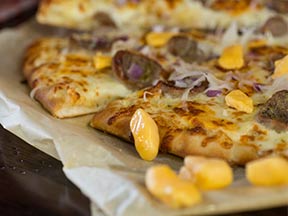 1. Wisconsin Golden Nugget Pizza at the Klondike Pizza Kitchen
This amazing pizza features golden nuggets of Wisconsin cheese curds, sliced bratwurst, onions and a smattering of sauerkraut. Shredded whole milk mozzarella cheese and creamy mustard garlic sauce make this a Wisconsin treasure. Can you say "Yum"?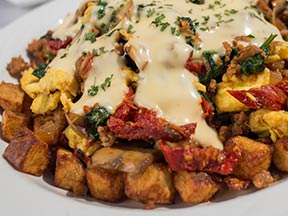 2. Hot Mess at the Wild Canyon Café
An absolutely spectacular way to start your day, this dish features scrambled eggs with a hearty mixture of sautéed spinach, mushrooms, onions, sun-dried tomatoes, diced red potatoes, zesty chorizo and Monterey Jack cheese.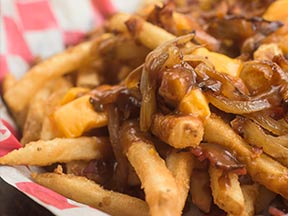 3. Poutine at Survivors
We've put a Wisconsin spin on this Canadian favorite. Enjoy sea salt and cracked pepper fries, piled with fresh Wisconsin cheese curds, amber ale caramelized onions, gravy and topped with Applewood smoked bacon. (Yes, we said bacon.)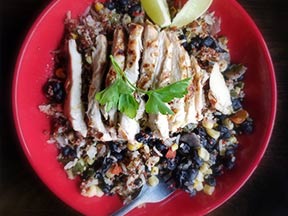 4. Margarita Chicken Grain Bowl at Survivors
Enjoy a perfectly grilled chicken breast placed on top of a chipotle lime red quinoa pilaf with fire roasted vegetables, avocado, white corn, poblano peppers and black beans and topped off with Margarita dressing. Es muy bueno!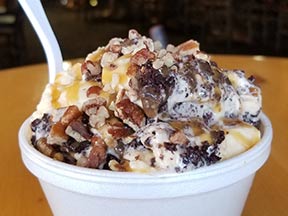 5. Turtle Brown Sundae Delight from Pistol Pete's
This indulgence is heaven sent. We take rich French Vanilla ice cream and blend on a cold stone with a rich chocolate brownie, decadent caramel and pecans.
Try these favorites when you are here and then explore and share your own top five with us on Facebook or Instagram!