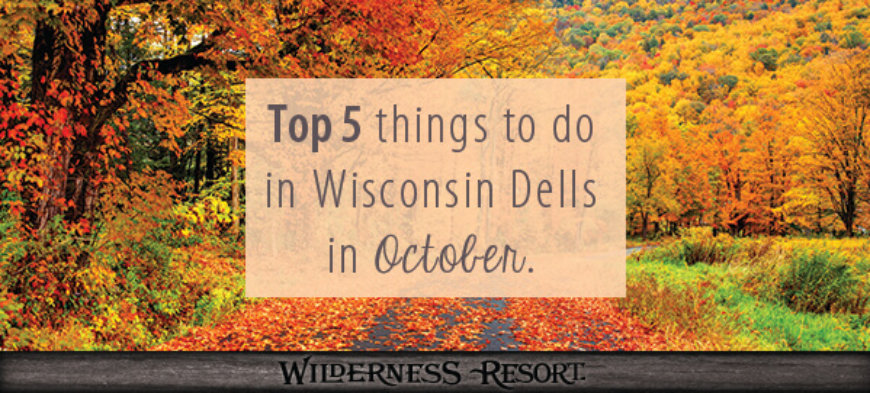 TOP 5 THINGS TO DO IN WISCONSIN DELLS IN OCTOBER
Pack your cozy sweater, leggings (and your Halloween costume) and head to Wisconsin Dells for fall fun in October! We have put together a list of our top five things to do in the Dells this month!
Dells Craft Beer Walk, Friday, October 14
Stroll through downtown Wisconsin Dells and get a taste of what craft brewing phenomena is all about. Taste a vast selection of artisan brews at participating bars from 5-10 p.m.
Dells Monster Dash 5K Run/Walk, Saturday, October 15
On your marks, get set, go! The Dells Monster Dash is great Halloween themed 5K race where costumes aren't just accepted, they're encouraged! The fun starts at 9 a.m. with a Kids' Dash in downtown Wisconsin Dells on La Crosse Street.
Autumn Harvest Fest, Saturday, October 15
Located on La Crosse Street in the heart of downtown Wisconsin Dells, Autumn Harvest Fair has everything you'd want in a charming fall festival. There is an arts & crafts marketplace, petting zoo, pony rides and plenty of fun family entertainment. The event runs from 9 a.m. – 5 p.m.
18th Annual Dells On Tap, Saturday, October 15
Dells On Tap, also located on La Crosse Street in downtown Wisconsin Dells, features a variety of craft brewers and over 180 unique beers to sample. Five hundred VIP admissions will receive exclusive access to the Dells On Tap brewers and tastings from noon until 1p.m. General admission hours are 1-5 p.m.
Wilderness Resort's Mega Family Halloween Bash, Friday, October 28
Exclusively for Wilderness guests, this free, fun family event runs from 7-10 p.m. It features a DJ playing the latest hits, games for the kids and a costume contest with great prizes for all different age categories! On Saturday, you can take a horse-drawn wagon ride to pick out a mini pumpkin and take the kids around the Trick-or-Treat Trail!