 What's New and What's Coming in 2023
If you didn't make it to our resort in 2022, we want to prepare you to have your mind blown the next time you visit! A LOT HAS CHANGED! Here's a quick recap of what we did in 2022 and what to expect in 2023.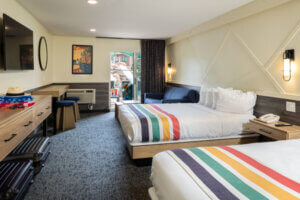 Room Renovations
All 446 of our main resort guest rooms were updated throughout 2022. They received new lighting, a fresh coat of paint, carpet, flooring, countertops, furniture, artwork and TVs. Guests are loving the new look of these rooms and you will too.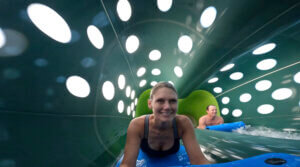 Wild West Waterpark Gets Renovated and Adds a Swim Up Bar!
Our Wild West Waterpark also reopened in fall of 2022 after a six month renovation. It now features a new multi-level play and spray structure called Ransack Ridge; a new two-lane dueling tube ride called Twisted Trails, and a dueling head-first mat racer ride called Warped Wagons. Both Twisted Trails and Warped Wagons feature state-of-the art, eye-popping translucent slide effects and multiple rally points where riders are able to see their competition dashing down next to them. Families love them! For those of you worried, don't be our all-time favorite rides Fantastic Voyage and The Black Hole still remain in the waterpark.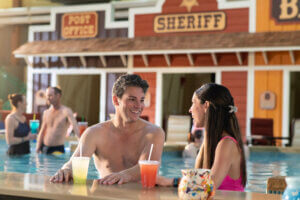 We're also happy to announce that the Wild West Waterpark now has its own Swim Up Bar! YeeHaw's Watering Hole spans 1,300 square feet and serves up fun times and cocktails for guests over the age of 21. The Wild West themed bar also has an additional two-tiered, dry seating area for an additional 20 people and is located near nine new cabanas which are available for private rentals.
Two New Food Venues
As part of the Wild West Waterpark renovation, we also added two new food venues.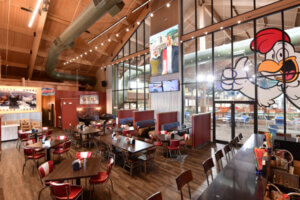 The Swimm'n Chick'n Eatery and Sports Bar overlooks the Wild West in the space formerly occupied by Thirsty Buffalo. It is now our "go to" restaurant for delicious, hand-crafted gourmet chicken tenders. Each crispy tender offers a taste of goodness and the amazing dipping sauces are sure to leave your mouth-watering. Guests also love their Rooster fries, coleslaw, and warm biscuits served with honey butter.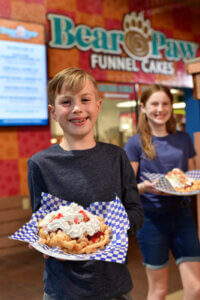 If sweets are more your thing, we're certain you'll LOVE Bear Paw's Funnel Cakes located in Wild West Waterpark. Here you can enjoy a classic funnel cake topped with powdered sugar or notch it up a bit with some of our gourmet creations like the Camp Social S'mores Funnel Cake, which puts a on new spin on the classic s'more. Or, indulge in the Saddle Bum Strawberry Cheesecake Funnel Cake, Salted Caramel Caboodle Funnel Cake, Blue Skies Out West Funnel Cake or Rocky Mountain Rainbows Funnel Cake, all of which are served with a scoop of ice cream and whipped cream. Yummy!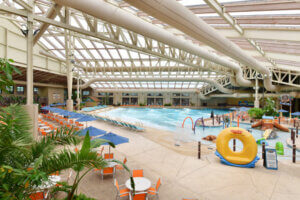 New Seating
Last but certainly not least, in 2022 we updated all of the seating in our Wild WaterDome, Wild West and Lost World waterparks to include new more comfortable and inviting seating. The cheerful colored furniture also gives our waterparks a fresh look that leaves you happy!
NEW IN 2023
8 Wilderness Tree House Cabins
Construction is underway on 8 NEW 4,000 square foot, three level cabins which are certain to bring new meaning to the term Tree House. Each will feature five bedrooms, including 2 primary bedrooms with private bathrooms; 6 total bathrooms; a living room; fully furnished kitchen with breakfast bar seating for 10; entertainment room with wetbar, full refrigerator, bar seating for 12 and a gaming table; and attached tree house unit with additional sleeping arrangements and lounging space. Outdoor deck or patio space on every level plus a gas grilling station at each unit completes these must see cabins. These units, which can sleep up to 22 people, will be located near Wild Rock Golf Club and some will be available to rent as early as August 3.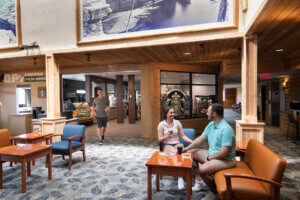 OP's Marketplace
Our convenience store in the Wild West lobby recently received a facelift and reopened for business in April. The renovated store now has its storefront facing the lobby and still features delicious Starbucks coffee and drinks as well as convenience items.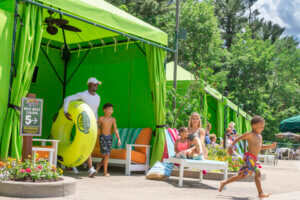 More New Waterpark Seating and Refreshed, Brightly Colored Cabanas
Guests coming for summer will be surprised to see all new, comfortable and inviting seating in our New Frontier, Klondike Kavern and Lake Wilderness waterparks.
We've also refreshed our outdoor cabanas in the Lake Wilderness and Lost World Waterparks to include brightly colored cabanas with plush seating.
Glacier Canyon Lodge Lobby Renovation
After the summer fun has ended, we'll be renovating the lobby area of Glacier Canyon Lodge. The space will be getting new furniture, updated flooring and finishes, and updated restrooms.