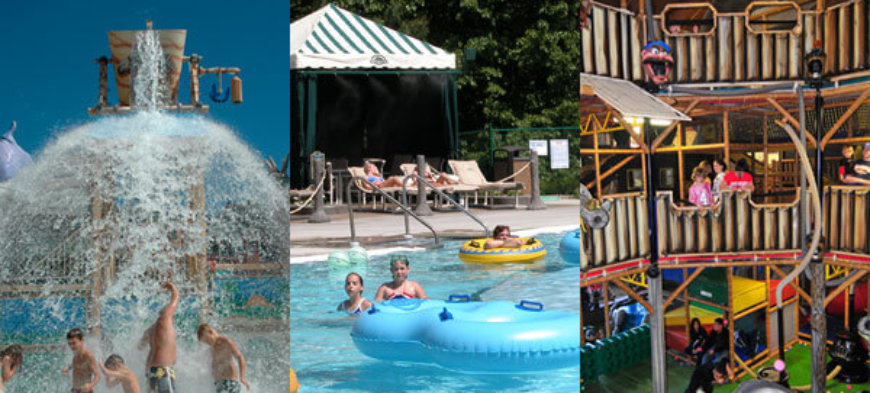 WHY THE WILDERNESS IS MY HAPPY PLACE
By Guest Blogger Jim from Bolingbrook, Il
My first trip to the Wilderness was totally unplanned…a whim!  I had a bad day at work and I needed to take a breather. Based on a co-workers suggestion, I made a few phone calls, alerted the troops at home, and we were off to the destination that I now refer to as, "my happy place." As a father of three active boys, and with a wife that liked relaxing in nature with a book, finding a place that everyone would enjoy had always been a challenge.
I walked into the lobby of the Wilderness and I was so pleased. The place was so big and had such a rustic atmosphere. It was beautiful, and it looked like there were so many places to explore. After checking in, we quickly navigated down the hallways, amused by the bear-patterned carpeting. I was just as pleased by the décor of our room, but there were things to do. We threw down our bags, put our suits on, and headed out.
When we got to the Wild West Indoor Park, I was like a kid in a candy shop…so many neat water slides, rides and activities. My 5-year old was just as excited. We would stand below the large bucket near the ceiling and when it overflowed, we laughed heartily as water spilled down on us. Large waves threw us around in our inner tubes in the wave pool, and we relaxed by riding down the lazy river. My wife enjoyed the water, too, but was just as happy to sit in the lounge chair, read her book, and watch us have fun. That first night ended with a trip to the Timberland Playhouse. There was Nerf ball shooting on a four-level tower. My son and I had a blast. We closed the place down.
Outdoor fun was the theme of the second day.  Since the lines were fairly short, we were able to enjoy multiple rides down the water slides. We also swam like seals around the island in the main outdoor pool. When we went inside for lunch, my wife said it felt so good to be away and to leave the world behind. She didn't want the fun to end. I called the front desk to see if we could stay in our room for one more night.  The rest is history.
The "kids" are now 24, 22 and 14, but all still enjoy the Wilderness Water Parks. We've enjoyed different seasons and holidays at our special Dells spot. Even Grandma has spent several Thanksgivings with us at the Wilderness. And there is nothing like sitting in one of the outdoor hot tubs during the cold, Wisconsin winters.  Many ice-sculpted hairdos have been designed there.
I think we have stayed at every type of room available at the Wilderness, our favorites are the rooms at Glacier Canyon. Our Church Youth Group even came up for a weekend and fifteen of us had a blast at one of the large cabins. The greatest thing about my happy place is that I've been able to pass it on to my kids.  I've given short vacations at the Wilderness to my two oldest boys, to get away during their winter college breaks. I hope that all my sons will continue our tradition at the Dells when they have their own families.
Everyone has a happy place.  Mine is the Wilderness.