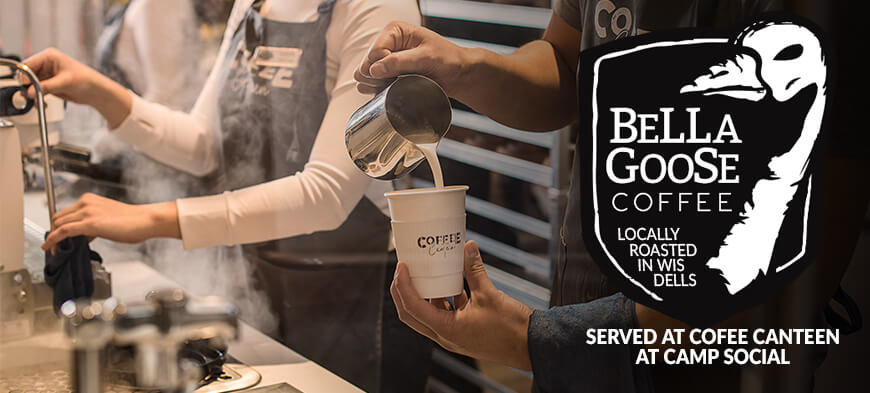 Why We Can't Get Enough of Bella Goose Coffee
Our new Camp Social Coffee Canteen serves up our locally sourced Bella Goose Coffee roasted right here in Wisconsin Dells but not a lot of people know much about Bella Goose so they are a little reluctant to try it.
We can tell you that it is fantastic, full of flavor and has a great story behind it. The company was founded in 2013, after Jay Heesch visited Costa Rica and was inspired by the coffee huts that created a sense of community. Jay came back to Wisconsin Dells determined to make an exceptional craft coffee. Jay's son, Jordan, joined the effort purchasing a Gene Café 8 oz coffee roaster and began very small batch roasting.
Soon others joined the Heesch's and together the 6 six founders had a crazy dream of opening a café which became reality in September of 2014.
Bella Goose means 'Beautiful Lead' and that's what the company does, they strive to be a part of inspiring beautiful leaders in our world. In addition to their Wisconsin Dells location, Bella Goose is also available now in Chiang Mai, Thailand and Angeles City, Philippines.
Stop on by Camp Social and pick up a mocha, latte, cappuccino or plain ole' cup of coffee and give Bella Goose a try!