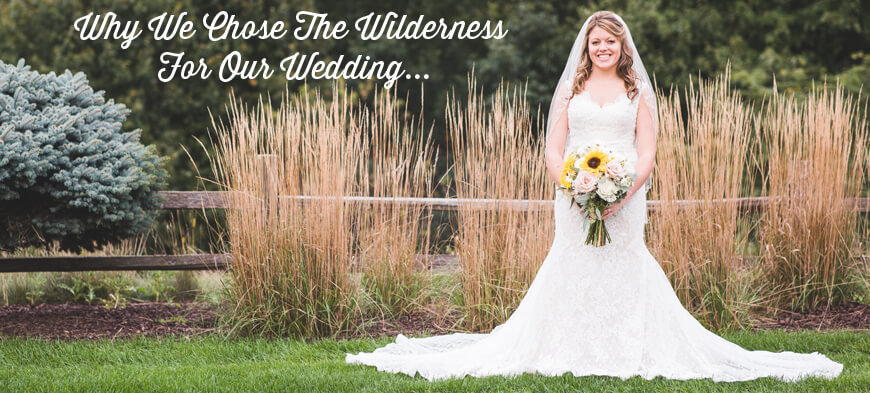 Why We Chose the Wilderness For Our Wedding
By Jessica H. married in September 2018
Location…Location…Location
When my fiancée and I started talking about our wedding we weren't sure exactly on the perfect location. We wanted it to be somewhere fun that our guests would enjoy, but we knew we didn't want it to be too far from home.
As a kid, my family went to Wisconsin Dells a lot and we spent many weekends at the Wilderness. When I shared my idea of hosting our wedding in Wisconsin Dells with my fiancée he loved the idea. We visited a few locations, but none of them compared to the Wilderness.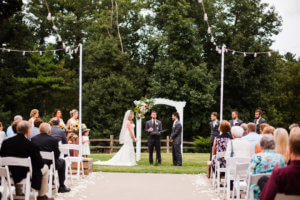 When we saw the Wilderness Ballroom we knew that was where we wanted to get married. The outdoor area for the ceremony is beautiful, and it feels so private even though you're at a large resort. The Wilderness Ballroom is just beautiful! It is classy and elegant, and everything we were looking for in a reception venue.
We also loved the idea of having the waterparks available for our guests. It felt like a destination wedding for us, but we (and most of our guests) only had to drive about an hour and half to get there.
We decided to go with a Friday wedding so we would have Saturday to enjoy the resort with our family. It was so nice to celebrate with everyone on Friday night and then to spend the next day relaxing and enjoying the waterpark with so many of our loved ones.
Top-notch Assistance
The Wilderness's wedding planner, Jennifer Akers, was so incredibly helpful leading up to our wedding and on the actual day. I was so thankful for the list of vendors she gave us as well. Being from a little over an hour away, we didn't know the vendors in the area. We found our florist, Wild Apples Floral, and our bakery, Neat-O's Bake Shoppe, from the list and both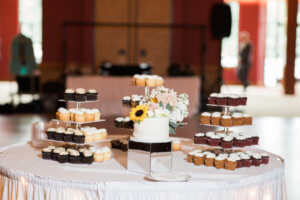 were so easy to work with and the flowers and our cupcakes were even better than I could have imagined.  We also decided to rent outdoor lights for the patio from Blue Moon Event Rentals who came and set up the night before, and I was so glad we made this addition. It added a whimsical look outside and made the outdoor space really come together.
The Ballroom is so beautiful that we hardly had to add any decorations. We created half of our centerpieces and our florist created the other half. We set our centerpieces up and Jen asked if we wanted to use the mirrors they had available as well. Not only did she give us this great idea, I got back to the ballroom and the staff had taken care of setting up all the mirrors under our centerpieces so we didn't have to worry about it. She also found a way to get me in to set up earlier than I even thought I would be able to which was such a huge help.
The day of our wedding Jen was so helpful as well, I can't say enough about how easy she made the day for me. Anything that I needed or had a question on that day she took care of quickly and with an awesome attitude.  It was honestly a perfect day and she is very much to thank for that.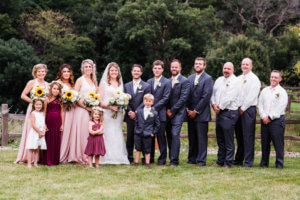 We were also so pleased with the food and the service at the wedding. Everything was delicious and our almost 200 guests were served their food very quickly and we received so many compliments from our guests on how delicious the food was.
The Wilderness was the perfect choice for our wedding and we wouldn't have changed a thing. Now each time we come back on vacation, the Wilderness has a very special place in our hearts.