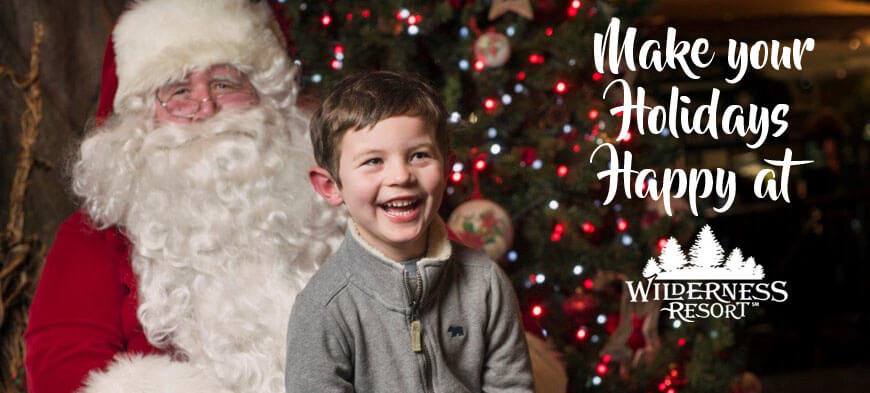 2019 HOLIDAY HAPPENINGS
We're happy to announce that Santa will be posing for pictures and talking with children in the redemption area of Wilderwood Arcade area right by Survivors from 9-11 a.m. on December 7th, 8th, 14th, 15th, 21st and 22nd.
Our WildKids' team, and one of Santa's elves, will be decorating Christmas cookies with children on Saturdays (December 7th, 14th and 21st and 28th ) from 1-2 p.m. in our Glacier Canyon WildKids' room.  There will also be various foam Christmas themed craft projects in our WildKids' room for kids to get creative with and Christmas bingo daily at 3 pm.
You can also order in advance holiday themed packages that can be placed in guest's room as a surprise. It includes a warm fuzzy blanket and two mugs with hot chocolate mix in a cellophane cone tied with a ribbon, The cost of this package is $40. Please call 608-253-9729 ext. 4552 (at least 48 hours in advance) to secure your special package.
Finally, Santa's elves will also be making some special deliveries at our resort for select good girls and boys from 6-10 p.m. on December 6th, 7th, 13th, 14th, 20th and 21st. The cost for a small gift and treat delivered to your room is just $20 per child. Please call 608-253-9729 ext. 4552 (at least 48 hours in advance) costs and details.
Our Christmas Day Breakfast Buffet will be from 7 am to 12 pm in our new Camp Social. It will feature Breakfast "Happy Camper Sticks" (skewers) with Kielbasa/Peppers/Onion/Mushrooms, Fruit and Ham/Pineapple/Maraschino Cherries; Hot Chocolate Pancakes; Carrot Cake Pancakes; Pecan & Coconut Waffles w/ Salted Caramel; Pulled Ham Eggs Benedict; Bacon Carbonara Breakfast Pizza; an Omelet Station; Toad in the Hole; Scrambled Eggs; Door County Egg Lasagna; Carved Ham and Bananas Foster French Toast (Please note items are subject to change) The cost is  $16.99 for adults, $11.99 ages 4-12.  3 and under Free.
Our Christmas Day Dinner Buffet will be from 3-8 p.m. in our Glacier Conference Center and will feature a Chef Carved Beef Strip Loin Station with Au Jus, Baked Salmon with Lemon Dill Cream Sauce, Coconut Curry Chicken Breasts, Baked Honey Orange Glazed Ham, Smoked Brisket with Amber Ale Onions, Pumpkin Pie Spice rubbed Pork Loin with Brandied Apples, Broasted Chicken, Swedish Meatballs, and Shrimp Scampi along with many delicious sides, an endless dessert station and more. (Please note items are subject to change) The cost is $32.99 for adults, $13.99 for children 4-12 and free for children 3 and under. Menu items subject to change.
Reservations are recommended for the Christmas Day buffet. Please call 800.867.9453 ext. 4241.
Wilderness Gift Cards Make the Perfect Gift!
If you are looking for the perfect gift that is sure to please anyone on your list, consider purchasing a Wilderness gift card. They are available in any denomination, can be redeemed at any Wilderness outlet and they create lasting memories! To purchase one, simply call our reservation staff at 800-867-WILD.