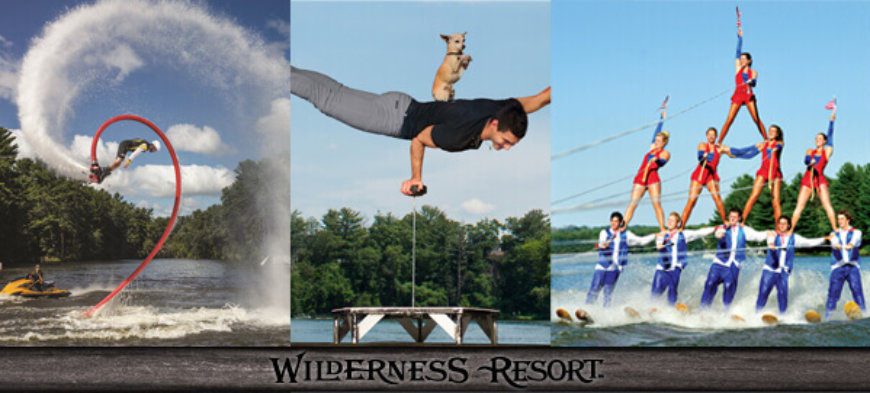 ALL Wilderness Guests to Receive a Complimentary Ticket to the Legendary Tommy Bartlett Show
We love our customers! And as a special thank you, this year ALL registered guests staying at the Wilderness from Memorial Day Weekend through Labor Day will receive a complimentary ticket to the Tommy Bartlett Show.
This 90-minute, iconic water and stage show is well-known and has become a legendary attraction in Wisconsin Dells. This show features some of the best water skiers in the country. Watch as they perform thrilling jumps and flips, tricked-out barefoot acts and of course no show is complete without seeing their skiers build their famous human pyramid.
This year, the show's producers have kicked it up a notch with a special FlyBoard performance! For those unfamiliar with FlyBoarding, imagine a wakeboard – now add water pressured jets with so much power that it can hover you over the water! Watch in amazement as their crew hop on board and take flight to perform some of the most HIGHLY entertaining tricks you'll see this summer. Guests can also expect to see spectacular tricks with wakeboards, jet-skis and the Sky Ski, a special hydrofoil chair ski.
The stage portion of Tommy Bartlett show is adding a new act too! It's Christian and Scooby, who many may recall seeing on NBC's "America's Got Talent" television show two summers ago when this duo made the Top 12 as finalists. Christian is a fifth-generation circus performer and a very talented acrobatic. And Scooby, a tiny Chihuahua dog, is his adorable side kick who loves getting in on the action and often steals the limelight.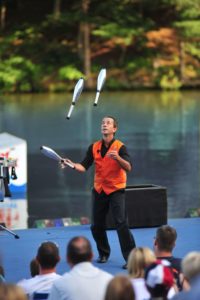 Other stage performers this year will include: Nerveless Nocks, racing motorcycles who drive at speeds of up to 60 mph inside an 18 foot tall Glove of Thunder; fifteen year-old Carson Howell riding a unicycle on stage and his dad, T.J. Howell, who dazzles audiences with his world-class juggling skills and upbeat humor; and the Fausto Scorpions, a fast-paced "risely" foot juggling routine. Plus, a lighted hang-glider kite will be performing again and the Entrancing Waters will conclude the show.
The Tommy Bartlett Show runs rain or shine, May 27 – September 4, 2016 at 4:30 and 8:30 p.m. (Please note: on May 27 there is only an 8 p.m. show). Complimentary tickets will be given to guests at the time of check in. For more information visit www.tommybartlett.com