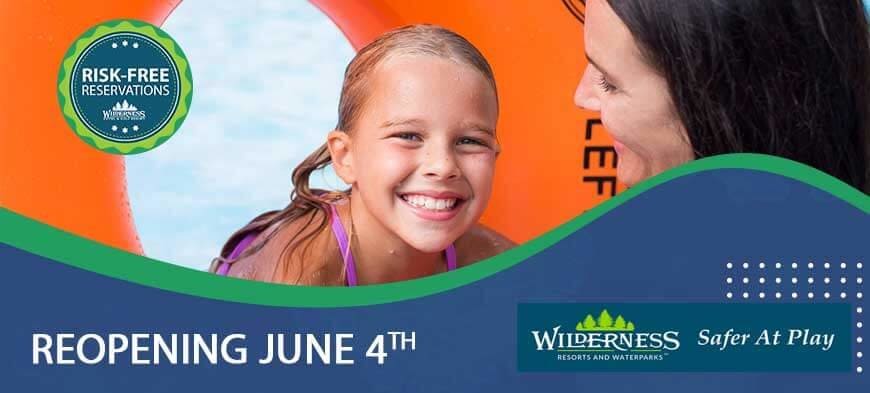 WILDERNESS INTRODUCES NEW SAFER AT PLAY PROGRAM
Wilderness Resorts and Waterparks has always cared about making sure our guests and employees are safe. However, as you know the meaning of "safe" has changed tremendously since COVID-19 appeared in our country in February.
We, as a society, are now thinking twice about how close we are to one another, we're all washing our hands more than we used to, and we've become very conscientious about preventing the spread of COVID-19.
That's why we thought it was important to document our "new normal" into a formal manner that we have named our "Safer at Play Program."
This document provides recommendations for how to physical distance from other guests while at our resorts as well information on our employee procedures, and the safety precautions we've implemented for our registration process, lodging options, waterparks, arcades & attractions, food & beverage outlets, convention center, retail outlets, and shuttle buses & elevators.
To view this program please visit:  https://bit.ly/36bYToH
In addition to our Safer at Play program, we've implemented Flexible and Risk-Free Reservations for the remainder of 2020. In today's world, our resort understands you may have concerns regarding your upcoming reservation or you need reassurance in booking a new reservation. If you have an upcoming reservation and wish to rebook, we can apply your paid deposit to a future stay*. Additionally, Wilderness is proud to start offering RISK-FREE RESERVATIONS.  We understand plans can change, so if you need to cancel your reservation, for any reason, we will refund your paid deposit, in full, as long as you cancel at least 72 hours before your arrival date**. No Fees – No Penalties – No Worries .
Finally, we have created Wellness Stations at each of our resorts where one of our first responders will be offering wellness screenings. If anyone in your party develops a fever or other symptoms our first responder will direct you to the appropriate medical care and refund any portion of your reservation that you have not utilized.
We truly want you to have a wonderful, safe vacation when you stay at our resort. Have fun and stay healthy everyone!
*New Rates may apply to new dates.
**Deposits of canceled reservations inside of 72 hours prior to arrival the deposit will be forfeited.