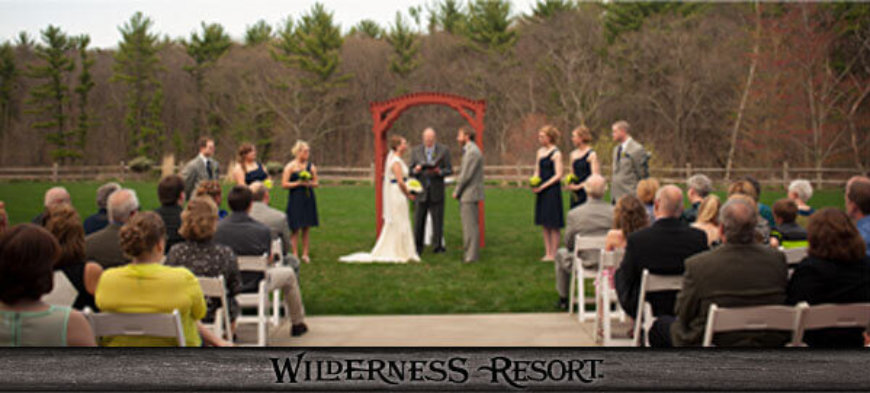 WILDERNESS OFFERED US THE COMPLETE WEDDING PACKAGE
By Guest Blogger: Kyra of Oshkosh
Chad proposed during a morning of rock climbing at Devil's Lake State Park. It was the perfect setting for a proposal because climbing has been an integral part of our relationship. With our wedding date chosen a year out, we knew our venue options might be limited. We envisioned a rustic," outdoorsy" themed wedding, and longed for a venue to match. We wanted a location which offered options for both ceremony and reception, with in-house catering, onsite hotel accommodations, and enough space for our large guest list. We also needed for this site to be near Sheboygan or Portage, our hometowns. Figuring a venue that offered all of these things would be unattainable; we were willing to make sacrifices.
Early in our search for a venue, we confirmed our original doubts; our wedding vision would most likely require booking additional services. Most locations we looked at included just the site and everything else needed to be ordered from other providers. We then contacted Jennifer, the Wilderness' wedding planner and found out that the Wilderness had all the features we were looking for, and best of all we wouldn't have to sacrifice any part of our vision for our wedding.
The Wilderness offers both an outdoor ceremony (with an indoor backup) and a fully-catered reception at the Glacier Canyon Conference Center. There are many onsite lodging choices for guests, as well as many recreational activities, including their amazing waterparks. With over 200 guests coming from all over the United States (Wisconsin, Minnesota, Michigan, Ohio, Nebraska, Virginia, Arizona and California), the Wilderness was a great destination. Many of our guests took advantage of what the resort has to offer and extended their stay into a mini-vacation.
Once we saw the Sandstone Ballroom, and found out our date was open, we knew we needed to book our wedding at the Wilderness. When it came time for planning the wedding, Jennifer was always a click away; to answer any questions we had in a timely manner.
Our wedding day was everything we had dreamed of and more! Anytime we had a concern, it was already being addressed by Jennifer and the Wilderness staff. Every detail that we had talked about in planning was done. We enjoyed every moment of our day worry-free because Jennifer and her team were there to ease the stress.
The Wilderness property was a perfect backdrop to many of our outdoor photos. There is a beautiful old barn, willow trees, water features, and even horse trails. The Wilderness exceeded our expectations and we still get compliments from friends and family on how wonderful our wedding day was! Thank you for giving us a day we will never forget!