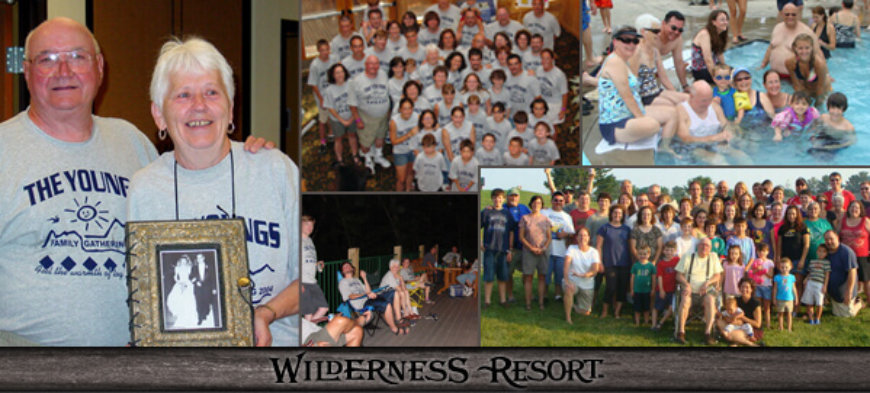 YOUNG FAMILY REUNION CELEBRATES 10 YEARS OF STAYING AT THE WILDERNESS
By Guest Blogger: Sue Young
Ten years ago, my parents approached me about planning a special family reunion with our entire family to celebrate their 50th wedding anniversary. I knew this would be a challenge because I have 11 brothers and sisters…all married with children! Because there were so many of us growing up, we rarely went on summer vacations, so my parents and I decided it would be fun to schedule the reunion in the  summer at a venue that would offer activities for everyone in our group ranging in age from not even 1 to 75 years old.
My husband, kids and I had been vacationing annually at the Wilderness so I knew that it had something for everyone including teenagers and young adults. I suggested this location to my parents and they loved the idea!  I became the group leader and contacted Shannon Timmerman in the group sales department at the Wilderness and our journey began.
Shannon set us up in two 5-bedroom cabins. My father would not take any excuse from any of us to not attend. He picked up the entire tab and even paid for airline tickets to guarantee everyone could attend. We picked the Sunday after the 4th of July. The weather was perfect, the cabins were wonderful, and the water parks were outstanding! It was so wonderful, that upon our departure, my father told me to contact Shannon and book the cabins again for the following year…his treat again.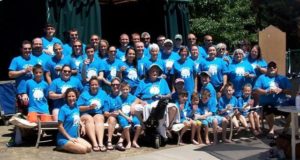 We are now in our 10th year of hosting our annual family reunion at the Wilderness on the Sunday after the 4th of July and my father is still picking up the tab! Our family keeps growing, and we are now over 55 members strong. A couple of years ago, we outgrew the cabins and but now we comfortably stay in five 4-bedroom condos.
Yes, the Wilderness  waterparks are special and a ton of fun but the kids in our family also love the Timberland Playhouse, rope climbing, laser tag, 3D mini golf and the mega arcade. We've also gone as a group on Duck Tour rides from the Wilderness parking lot, the men have golfed at Wild Rock and the kids have done the horseback riding in the nearby Lost Canyon.
Plus, we have made wonderful memories at the condos.  The nieces and nephews write and prepare skits for the group. There is singing, dancing, and karaoke. This year the youngest grandchildren are planning a parade. We bring up the big screen and share DVD's that various family members have prepared. We share one big dinner together. In our fully-equipped kitchens, we have prepared chili cook-offs, taco night, Italian night with lasagna, and this year we will be bringing up Buena Beef which is the family favorite back in Illinois. This year is also extra special because my parents are celebrating their 60th Wedding Anniversary!
We are a large noisy, opinionated, creative, and loving family and these family reunions keep us wonderfully connected. We all look forward to them and so many amazing memories have been made during each of them. I'm grateful to my parents, Tom and Barb Young, for paying for them each year and Shannon and Jaclyn in group sales for helping to make it happen each year!