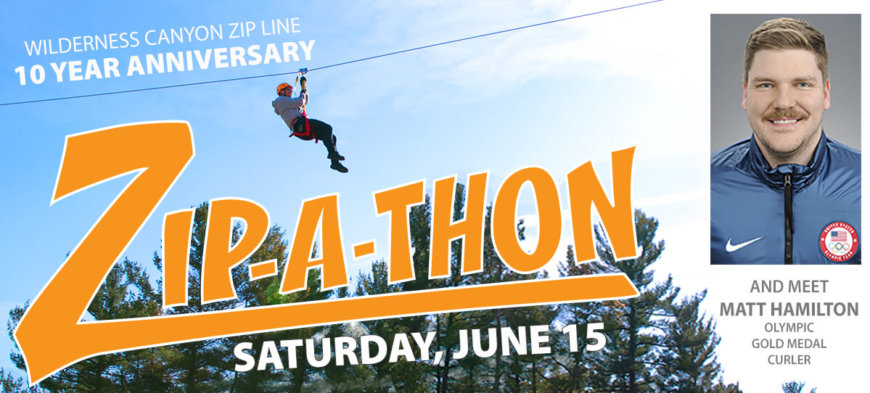 Zip-A-Thon to Feature Olympic Gold Medalist Matt Hamilton!
Our zip line is celebrating its 10th anniversary, and we are going to celebrate it with a special visit from Olympic curling gold medalist Matt Hamilton!
On Saturday, June 15th from 9 am – 9 pm we will be hosting a Zip-A-Thon where anyone can experience zip lining for just $20 a person. Olympic curling gold medalist Matt Hamilton will be kicking off the event  from 9 am- 12 pm. Five dollars from each admission collected will be donated to Matt's favorite charity Project Joy, a wonderful non-profit organization designed to empower, educate and encourage the most vulnerable children and families.
According to Chris our attractions director, "We are super excited to be partnering with Matt and his favorite charity for this Zip-A-Thon to celebrate our 10th anniversary. Our goal is to get 500 people to try out the zip line and to assist Matt in raising money for Project Joy."
This fun opportunity to meet an Olympic Gold Medalist and raise money for a great cause will be on a first-come, first-served basis. Guests will ride five different zips with the last one being a dual line zip line that you will have the opportunity to race against another person.
Those wanting to zip must be between 70 -270 lbs, and be wearing sturdy shoes. Those under 18 will need a parent/legal guardian present to zip. The entire process, from the time of your arrival, to signing of release forms, getting geared up and completing five zips takes approximately 30-45 minutes.  Zip lining retail merchandise will also be 25 percent off for the day