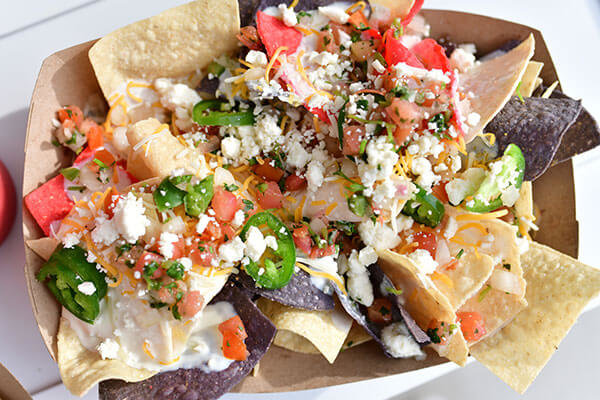 Camp Social
The Burger Bar: A full‐service bar that also serves up a small menu of great burgers! Try our Camp Social S'mores Cocktail.
Tacolicious: Serving delicious tacos, nachos, taco bowls and the famous walking taco!
Coffee Canteen: Serving locally-sourced Bella Goose coffee, teas, smoothies, & doughnuts.
Breakfast: Enjoy a hearty breakfast  buffet, from scrambled eggs to french toast plus so much more!
Dinner: Serving Tacolicious tacos and nachos, Lily's Specialty Pizzas and Puddles popcorn.
The Candy Cabin: Guests can satisfy their sweet tooth with unique candy innovations.
---
Camp Social Breakfasts Options.
Please refer to our daily Wilderness Express HERE for today's hours and breakfast options.
Buffet will be served during PEAK occupancy and off menu during NON-PEAK occupancy.
BREAKFAST MENU – NON-PEAK OCCUPANCY (please check Wilderness Express for today's hours)
Enjoy our all-you-can-eat Camp Social Breakfast Buffet served on peak days (check your Wilderness Express for availability)
Enjoy fluffy scrambled eggs, bacon, sausage, buttermilk pancakes, french toast, waffles, breakfast potatoes, cinnamon sugar donuts, assorted danishes, fresh fruit, and yogurt.  All the yum yum you can handle!
---
Dinner Time!
Open select evenings from 5pm – 9pm. Please refer to our daily Wilderness Express HERE for today's hours.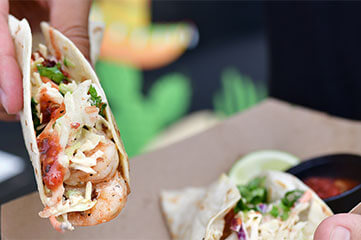 Serving Tacolicious specialty tacos and nachos as well as Lily's Pizza.  Just want a snack?  Grab some of Puddle's popcorn with one of our new slushies too!
Our menu is designed for the family on the go, grab something before or after you or hit one of the waterparks or attractions.
Tacolicious Menu  Lily's Pizza Menu    Puddles Popcorn & Slushies
---
THE COFFEE CANTEEN
Opens daily at 7am.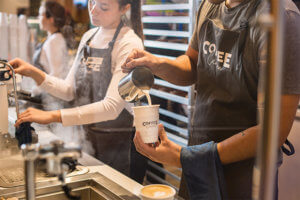 Serving up freshly-roasted coffees and teas from the Dells' own Bella Goose throughout the day, you'll find classics like espresso, americano, mocha, cappuccino, latte and even hot chocolate.  Also, try our own special trademark creations like the S'mores Latte or sample our locally sourced Caramel Apple Cider.  Grab and go items, pastries, yogurt, juice, and more are also available to make your morning complete.
---
THE BURGER BAR
Opens daily at 11am.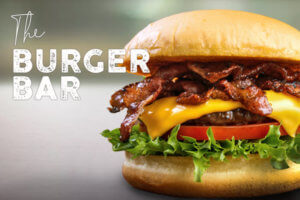 This full‐service bar has it all. Amazing drinks including our own Camp Social S'mores Cocktail and locally-crafted shakes, The Burger Bar also serves up some of the tastiest local Hereford chuck hamburgers, bratwurst, and seasoned fried chips. Their specialty shakes (with or without alcohol) include Strawberry Shortcake, Campfire S'more, and Carmel-Sauced varieties.
---
THE CANDY CABIN
Open daily.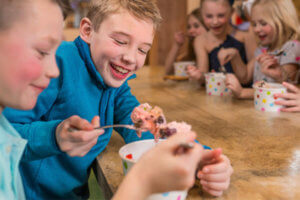 One location just wasn't enough. If you love sweets (and who doesn't!), you're going to want to stop in The Candy Cabin.  The original Candy Cabin is located in the Wild West lobby and the other is located in Camp Social and features all the homemade chocolates and candy of the original plus soft-serve ice cream with a topping bar to make your ice cream masterpiece complete!   Both shops feature all sorts of heavenly hand-dipped delights and more types of candy than you can imagine.
---
Please refer to our daily Wilderness Express HERE for today's hours.