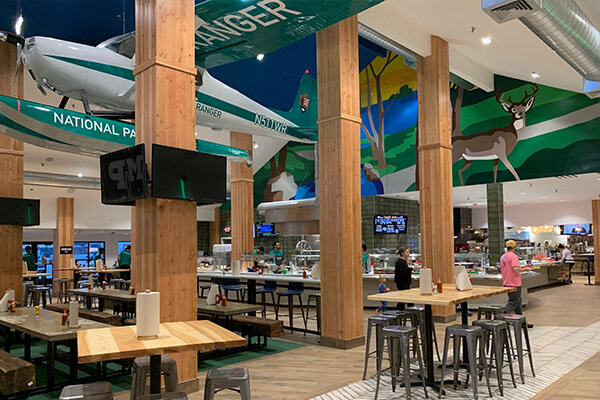 Camp Social
The Burger Bar is a full‐service bar that also serves up a small menu of great burgers! Try our Camp Social S'mores Cocktail.
Coffee Canteen serves locally-sourced Bella Goose coffee, juices, smoothies, & doughnuts.
Old Red serves Roman-style pizza, cut slab-style with a scissors to order.
The Skillet will offer a variety of custom creations for breakfast/lunch/dinner.
Campfire Press serving up grilled sandwiches.
Trail Mix a salad lovers' dream station.
The Q a grill area serving up "Happy Camper skewers".
The Candy Cabin where guests can satisfy their sweet tooth with unique candy innovations.
---
Welcome to Camp Social, Wisconsin Dells' first Food Hall, featuring a modern Wilderness design with a campy rec room area where patrons can relax, play games, watch sport on the big screen, or even sitting around a cozy fire to swap stories. We're also planning to add pop-up carts to sell Wisconsin novelties.
---
NOW OPEN FOR BREAKFAST!
Open daily from 7am – 11am.
Everyone grab a tray and make a trip through "The Line". You'll find some surprises along the way that compliment these classic tasty favorites:
Assortments of Breakfast Pizza
Pancakes – Lumber Jack stack, Birthday or Hot Chocolate
French toast – Classic or Bananas Foster
Waffles – Classic or w/ pecan, coconut & salted caramel
Omelettes – Three Cheese, Denver or Wilderness
Freshly made pastries and donuts
Oatmeal
Scrambled eggs
Potatoes O'Brien
Potato Custard
Bacon
Sausage
Fresh fruit
---
THE COFFEE CANTEEN
Opens daily at 7am.
Serving up freshly roasted Bella Goose coffees and teas throughout the day, you'll find classics like espresso, americano, mocha, cappuccino, Latte and even hot chocolate. The Coffee Canteen also serves up our own special trademark creations.
---
THE BURGER BAR
Opens daily at 11am.
This full‐service bar has it all. Amazing drinks including our own Camp Social S'mores Cocktail and locally-crafted shakes, The Burger Bar also serves up some the tastiest local Hereford chuck hamburgers, bratwurst and seasoned fried chips. Their specialty shakes (with or without alcohol) include Strawberry Shortcake, Campfire S'more and Carmel-Sauced varieties.
---
THE CANDY CABIN
Open daily.
One location just wasn't enough. If you love sweets (and who doesn't!), you're going to want to stop in The Candy Cabin.  The original Candy Cabin is located in Wild West lobby and the other, here, inside Camp Social.  Both shops feature all sorts of heavenly hand-dipped delights and more types of candy than you can imagine!
---
NOW OPEN FOR LUNCH & DINNER!
These areas of "The Line" at Camp Social are now open for lunch & dinner.
Opens at 12:00p.
OLD RED:  Serves Roman-style pizza, cut slab-style with a scissors to order.
TRAIL MIX: A salad lovers' dream station. Choose from our chef-crafted salads or let us know what you want and we'll build it.
THE SKILLET: Offering  a variety of custom creations such as Mac & Cheese.
CAMPFIRE PRESS: Serving up grilled sandwiches.
THE Q: A grill area serving up "Happy Camper skewers".
---
Please refer to our daily Wilderness Express HERE for today's hours.