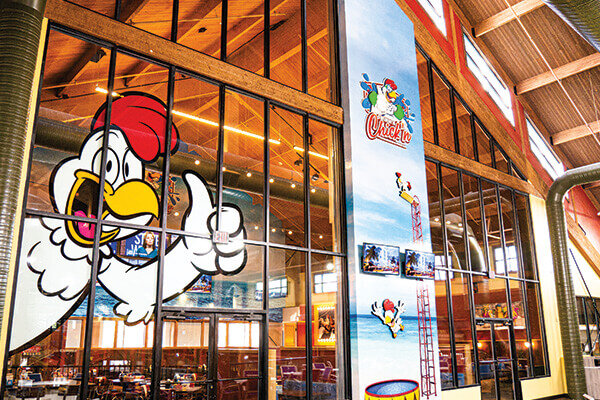 Swimm'n Chick'n
The Swimm'n Chick'n Chicken Eatery & Sports Bar is a casual restaurant overlooking the Wild West Waterpark that features an optimized menu centered around our star ingredient, a hand-crafted gourmet chicken tender. From salads to sandwiches, tender baskets to wraps, most items on our menu include this star of the show. The Swimm'n Chick'n offers a variety of mouth-watering sauces and dry rubs to pair with your chicken choices, as well as all-American favorite sides such as warm biscuits with honey butter; coleslaw; and the soon-to-be guest favorite, our Rooster Fries: Crispy French fries smothered in white queso topped with our crispy chicken tenders, crumbled bacon and fresh jalapeños.
Swimm'n Chick'n Menu    Allergen Information
---
Please refer to our daily Wilderness Express HERE for today's hours.