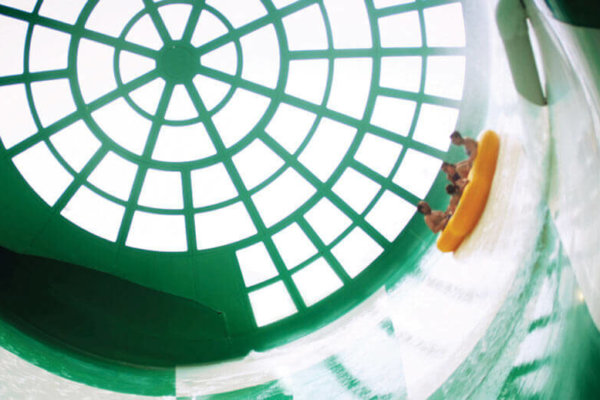 Klondike Kavern Waterpark
The Klondike Kavern is an indoor waterpark for everyone and offers over 65,000 square feet of nonstop indoor waterpark fun for all ages. There are thrill rides like the popular Hurricane, daring tube and body slides, and an adventurous lazy river. Mom's and Dad's also enjoy the indoor/outdoor hot spa while the kids will enjoy the towering Bonanza Bluff with play features with a dumping bucket, water blasters and slides.
---
Located in the New Frontier region of the hotel.
Bonanza Brook, a 400-foot lazy river
Bonanza Bluff, 50 play & spray features, a 750-gallon tipping bucket, a 20 foot body slide and a 4 foot side-by-side children's slide
The Hurricane, extreme thrill slide, a 4-person family raft ride
Mine Shaft Drop, two twisting 300-foot body slides
Claim Jumper Challenge, two 400-foot tube slides
Sulfur Springs, Indoor/Outdoor hot spa (No children under the age of six.)
Ore Shoot, Indoor/Outdoor basketball activity pool
Waterpark Slide Information & Restrictions
INSIDER TIP: Shortcut From Klondike Kavern to Wild WaterDome:
Look for the enclosed skywalk at the back of the Klondike Kavern (near the Hurricane stairs) that connects this park with the back of the Wild WaterDome. Avoid the hotel hallways and get there quicker for more fun!
---
Dining Options
Kodiak Kanteen: Conveniently located right inside the waterpark, the Kanteen offers a wide selection of grab-and-go finger foods, salads, cocktails, pizza, frozen treats and your favorite beverages. You can even checkout our great Deli-To-Go line of healthier choice items, also offered here.