3 Bedroom Golf Course Cabin
Base occupancy 6 / Sleeps max of 10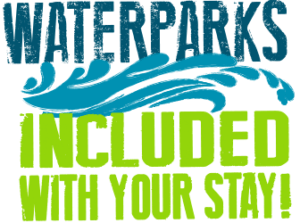 Our 3 Bedroom Golf Course Cabin is 1,300 square-feet and features 3 bedrooms on the main floor plus a bonus bedroom in the loft. There is a full kitchen with breakfast bar, living room with sofa sleeper and a two-sided fireplace that faces out to the deck that is complete with gas-grill and outdoor seating. (Children, ages 2 & under, stay FREE and do not need to be included in the number of registered guests.)
Book Now
---
Main Level:
Bedroom 1: One king-size bed, full bathroom, TV, In-Room Safe, deck access
Bedroom 2: One queen-size bed, TV, deck access
Bedroom 3: One set of twin-size bunk beds
Full Bathroom (shower)
Full Kitchen* with refrigerator, microwave, stove & dishwasher and breakfast bar with stools
Living room with sleeper sofa, cathedral ceiling, gas fireplace, TV, DVD Player
Deck with Gas Grill (Use of personal grills prohibited)
Washer/Dryer
Upper Loft:
Bonus Bedroom: Full Size Bed and TV
Additional Information:
Wi-Fi
Resort Shuttle Bus service is included and provides transportation to the main resort, waterparks, restaurants and golf course clubhouse.
Includes Crib
Cabins are privately owned, separate from the resort. Specific amenities may vary.
Daily housekeeping service is not provided in these units. Extra items are stocked prior to your arrival.
Rental of this unit may be subject to a Security Deposit.
Click here for more details about the security deposit.
*Kitchen items in this unit include: Place settings for 12 people, toaster, coffeemaker, can opener, corkscrew, cutting board, knives, serving utensils, measuring cups and spoons, mixing and serving bowls, colander, frying, sauce and cake pans, pizza pan and cutter, juice pitcher and serving bowls.
Paper towels and napkins are not included.
Check-In Time: 4:00 p.m.
Check-Out Time: 11:00 a.m.
---
Click Book Now to check rates for all available lodging options or fliter by 3 Bedroom Golf  Course Cabin: 
BOOK NOW     3 Bedroom Golf Course Cabin
---