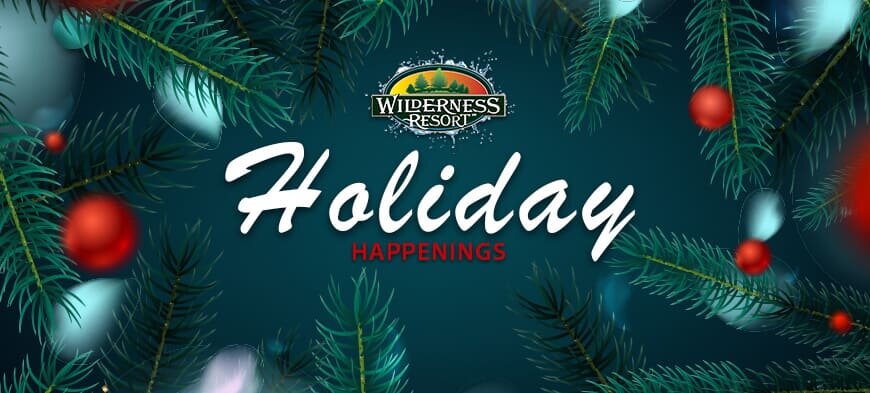 Holiday Happenings 2020
Happy Holidays from the Wilderness!
Christmas is one of our favorite times of year. And, although it might be a little different this year because of COVID-19 safety precautions, we are still trying to make it special for littles.  Here's what we have planned:
Visits with Santa!
We're happy to announce that Santa will be posing for pictures and talking with children in the Camp Social Happy Camper Gift Shop from 9-11 a.m. on December 5th, 6th, 12th, 13th, 19th, 20th and 24th. Santa will wearing a mask and visits will be limited.
WildKids Activities
Come check out our new WildKids Room on the main level of the Take Flight building! In it our WildKids' team, and one of Santa's elves, will be decorating Christmas cookies with children on Saturdays (December 5th, 12th and 19st ) from 1-2 p.m. They will also have holiday themed movies playing continuously and various foam Christmas themed craft projects to get creative with.
Christmas themed Bingo will occur daily at 4:30 pm in Camp Social.
Surprise Holiday Packages
You can also order in advance holiday themed packages that can be placed in guest's room as a surprise. More details on this will be added as details become available.
Santa's elves will also be making some special deliveries at our resort for select good girls and boys from 5-9 p.m. on December 4th, 5th, 11th, 12th, 18th and 19st. The cost for a small gift (plush deer), Santa letter, and treat delivered to your room is just $20 per child. Please call 608-253-9729 ext. 4552 (at least 48 hours in advance) costs and details.
THE POLAR EXPRESS™ Journey to the North Pole
We're so excited! Just in time for the holiday season, our NEW Take Flight theater with its enormous 65 foot by 45 foot screen will be showing THE POLAR EXPRESS™ Journey to the North Pole.
The film, set to show November 13-January 18, is a new, state-of-the-art ride experience based on version movie classic about a doubting young boy who takes an extraordinary train ride to the North Pole. He embarks on a journey of self-discovery that shows him that the wonder of life never fades for those who believe.
For additional details about this great holiday activity visit: https://www.wildernessresort.com/blog/polar-express-journey-to-the-north-pole-is-coming-to-take-flight-theater-at-wilderness-resort-november-13-january-18th/
Camp Social Holiday Fireside Buffet 
Enjoy our ALL YOU CAN EAT buffet at Camp Social on Christmas Day from 4-9 pm. It will include: Chef Carved Honey Glazed Ham; Roast Beef with mushroom and onion au jus; Oven Roasted Turkey; Mashed Yukon Gold Potatoes and Turkey Gravy; Herbed Cornbread Stuffing; Tri-Colored Tortellini with Alfredo sauce; Haricot Vert Almondine; Brown Butter Honey Parisian Carrots; Sweet Buttered Bi-color Corn; Brandied Cranberry Sauce; Cranberry Fluff; Classic Garden Salad with choice of dressing; Holiday Apple Salad; and Dinner Rolls.
For littles we will have Chicken Nuggets with Ranch or BBQ sauce; French Fries; Macaroni & Cheese and Jell-o Cubes.
For dessert there will be a Milk and Cookies bar featuring Gingerbread and Sugar Cookies, Lemon Bars and Peppermint Brownies; White Milk; Chocolate Milk and Eggnog.
It will cost $27.99 for Adults 13 and over; $11.99 for kids 4-12 years of age and FREE for children 3 years of age or under. Reservations are required. Please call 800.867.9453.