 WE'RE ADDING TWO ROOM ESCAPES BY D.O.A. TO WILDERNESS ON THE LAKE
After seeing some really amazing, interactive, real-life room escape games featured on The TODAY Show, The Conan O'Brien Show, The Big Bang Theory and The Bachelorette, we've decided to add this hugely popular phenomena to our Wilderness on the Lake property!
According to Chris our Attractions Director, "We know our guests, and those living and visiting the Dells area, are going to love to play these highly strategic, teambuilding games."
Chris a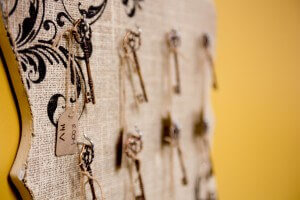 dds that the two Room Escapes by D.O.A will offer an interactive, real-life, mind-intensive experience. Up to 12 people will be locked in a room and will have 60 minutes to strategize as a team to decipher clues, decrypt codes, and interpret riddles to escape. They will need to examine visual props to unlock a series of padlocks of which, the ultimate lock, will hold the "key" to the participants' freedom.
The two Room Escapes by D.O.A., The Hotel and The Basement, will build upon a series of real-life incidents that occurred during the 1893 Chicago World's Fair. The Hotel will feature a recreation of its lobby and will be integrated with clues and puzzles to help the visitors find their way out! The Basement will be designed to inspire a mindset of urgency and confusion as participants navigate the layered twists of the room while spontaneous audio, visual, and animated objects will invade their senses.
"Overall the escape rooms won't feel claustrophobic or as creepy as one might expect," says Chris. "The vibe will be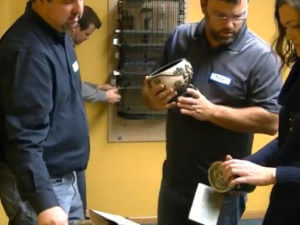 a fun, intimate environment where you work closely with your whole team, learning and using each other's strengths."
D.O.A. Room Escape is the brainchild of expert virtual room escape gamers John Bennett and Kristin Mellon who wanted to bring the craze of the room escape explosion to the Midwest. Their first location is in Addison, Illinois, a suburb of Chicago, which is why their D.O.A. rooms incorporate real-life, historical events tied to Chicago's most infamous news stories.
The two Room Escapes by D.O.A. will be located at the Wilderness on the Lake property in the space previously occupied by Big Fish Mini Golf. Anyone age 10 and up will be able to participate in the hotel-themed room escape, and anyone age 12 and up will be able to participate in the more intense basement-themed room escape. Each room experience will cost $24.50 for Wilderness Resort guests and $29.50 for the public. The Hotel is set to open December 22 at 3 p.m. The Basement will open on Friday, February 5, at 3 p.m. Tickets must be purchased in advance at https://www.wildernessresort.com/attractions/d-o-a-room-escape/.