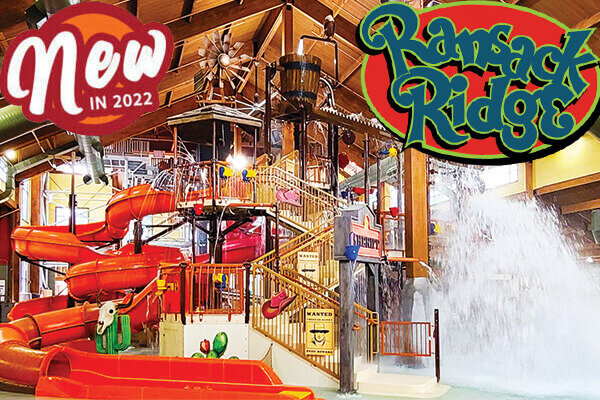 Wild West Waterpark
Four brand-new thrill slides are now open at Wild West Waterpark!
Our 70,000 sq. foot Wild West Waterpark is now open with brand new slides and features. Experience Twisted Trails, a new two-lane dueling tube ride, and Warped Wagons, a brand new two-lane dueling mat racer. These new slides feature eye-popping translucent slide effects and multiple rally points where riders will be able to see their competition dashing down next to them. Ransack Ridge children's play and spray feature has been completely redesigned and popular rides like The Black Hole extreme tube ride and Fantastic Voyage family raft ride have remained. Also, brand new is YeeHaw's Watering Hole swim-up bar and reimagined western-themed cabanas!
---
---
Located in the Wild West region of Wilderness Hotel.
Ransack Ridge, children's play & spray feature. ★NEW★
The Black Hole is an adrenaline-pumping thrill slide with a big descent, followed by plenty of spins before you are dropped into the unknown.
High Plains Hot Springs, indoor/outdoor hot spa (No children under the age of six.)
Fantastic Voyage, a 4-person raging raft ride.
Twisted Trails, dueling tube slides. ★NEW★
Warped Wagons, dueling mat racers. ★NEW★
YeeHaw's Watering Hole, swim-up bar. ★NEW★ 
Cabanas are available for rent (We suggest you book your cabana in advance of your stay since a limited number is available.)
Waterpark Slide Information & Restrictions
---
Dining Options
Swimm'n Chick'n chicken eatery & sports bar. ★NEW★
Bear Paw funnel cakes (next to Grizzy's Grill). ★NEW★
Grizzly's Grill is located right inside the waterpark, and it offers a wide selection of finger foods, salads, pastries, candy, pizza, frozen treats, and your favorite beverages.