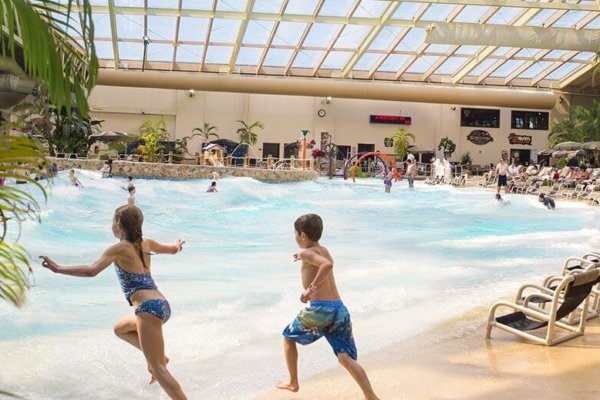 Wild WaterDome Waterpark
Bring your sunscreen! The Wild WaterDome indoor waterpark features a see-through roof that bathes the entire park in natural light and allows guests to tan (and tropical plants to flourish) all year long! The Wild WaterDome is also home to the Great Wave (America's largest indoor wave pool!), the Dueling Mammoths family raft rides, Mini Mammoths Cove zero-depth area, and Margarita's Swim-Up Bar!
---
Located in the New Frontier region of Wilderness Hotel.
The Great Wave: The nation's largest indoor wave pool.
The Dueling Mammoths family raft rides.
Mini Mammoths Cove 'zero-depth' play lagoon for the smaller ones with water jets, spraying fountains & slides.
Cabanas are available for rent. (We suggest you book your cabana in advance of your stay since a limited number is available.)
Waterpark Slide Information & Restrictions
INSIDER TIP: Shortcut From Wild WaterDome to Klondike Kavern:
Look for the enclosed skywalk at the back of the Wild WaterDome (near the Cabanas)  that connects this park with Klondike Kavern. Avoid the hotel hallways and get there quicker for more fun!
---
Dining Options

Wooly's Eatery - located right inside the waterpark, offering a wide selection of finger foods, salads, pizza, frozen treats, and your favorite beverages.
Molly's Shake Shoppe - Located inside Wooly's Eatery, offers a variety of shakes the whole family can enjoy.
Survivors Bar & Grill - is a sit-down bar and restaurant overlooking the Wild WaterDome and has nine TVs for you to catch up on your games. There are daily soups, specials, and be sure to check out our delicious 'Burger of the Week'!
Dippin Dots® - The original and unbeatable flash-frozen beaded ice cream sensation. Dippin Dots® is an unconventional ice cream treat that's remarkably fresh and flavorful. Your taste adventure awaits!